Overview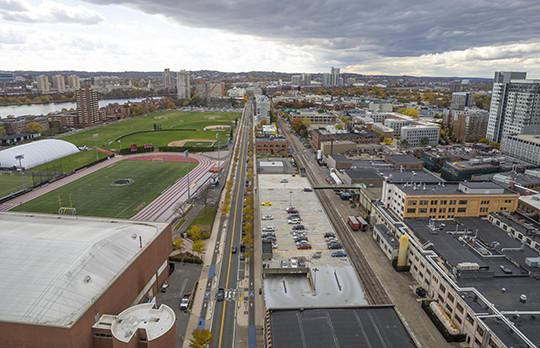 Themes and priorities
Sustainability
Enhancement of life and learning
As part of its mission to enhance the student experience, MIT is proposing to build a new undergraduate residence hall on the site of the West Garage parking facility (W45). According to Chancellor Cynthia Barnhart, a residence at this site would "further unlock the potential of the Vassar corridor" and would place more students close to the heart of campus.
The proposed residence hall project has a target completion date of Fall 2020. To date, its pre-design process has been informed by the recent efforts of MIT's New Residences Working Group, which involved a mix of students and staff, and by the recommendations of the Architectural Principles Document (APD), developed by another team of students, faculty, and staff. Recommendations from the APD include designing dorms around a "cluster" of 30 students and one Graduate Resident Tutor in a mix of single rooms, double rooms, and shared community space; and considering "critical paths"—the path each resident takes to his or her room—when creating community-building spaces such as artist studios, fitness areas, lounges, and multi-purpose rooms.
In addition to enhancing the student life experience at MIT, the new residence will also provide MIT with flexibility and capacity as it continues with its comprehensive renewal of campus housing.
Details
Project Team
MIT Team: Varin Ang, Jim May, Sonia Richards