Overview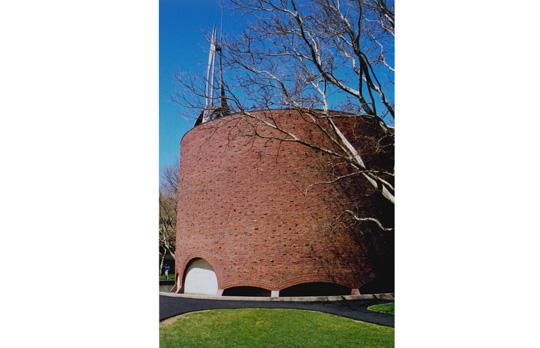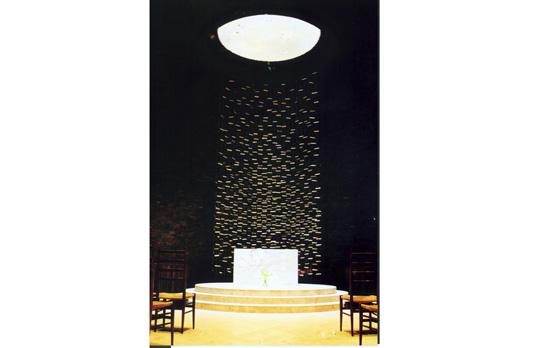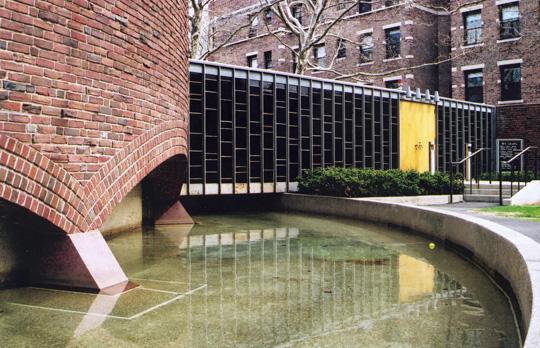 Themes and priorities
Renovation and renewal
Enhancement of life and learning
Designed by Finnish American architect Eero Saarinen, the MIT Chapel was dedicated along with Saarinen's Kresge Auditorium in May of 1955. The Chapel serves as a non-denominational gathering place for the MIT community, offering space for worship, meditation, and private ceremonies. The renewal of the Chapel restored this iconic example of mid-twentieth century modern architecture.
During the renewal process, the stained glass walls were repaired, restored, and protected, and the spire and bell tower were removed temporarily to allow the roof to be replaced. Additional exterior work included brick repair and repointing, and the rebuilding of the central skylight. The rebuilt moat incorporates a new filtration system and design elements to prevent water leakage. This work restored the beauty of the moat, which allows a soft secondary light to fill the Chapel through openings at the base of the walls. Inside the Chapel, its travertine floors were upgraded and renewed, its interior brick cleaned, wood surfaces refinished as needed, and new railings were added to the organ loft. Major systems such as HVAC, plumbing, and fire protection were replaced or upgraded as needed.
Now fully renewed, the Chapel is better able to serve the community.
Details
Address
48 Massachusetts Ave, Cambridge, MA
School or Unit
Dean for Student Life
Project Team
Architect: EYP, 470 Atlantic Avenue, Boston MA 02210 
Construction manager: Lee Kennedy, Quincy, MA
MIT Team: Thayer Donham, Brian Healy, Michael Kearns
Design Features
Renew multiple existing mid-century architectural features.

Rebuild moat to prevent water leakage. Rebuild filtration system to reduce extensive manual cleaning currently required.

Restore existing stained glass window walls, including new stainless steel (painted) framing system and reinstallation of remaining stained glass within the existing system.

Exterior repairs, including roof replacement, rebuilding of existing skylight, and brick repair/repointing as required. (Note that the spire will be removed during roof replacement and replaced upon completion.)

Interior renewal, including upgrading the travertine flooring, cleaning interior brick, refinishing wood, adding new railings at organ loft, and painting.

Replace HVAC and control system, rebuild and add new electrical lighting fixtures, extend fire protection system, and replace plumbing pumps and fixtures.
Sustainable Design Elements
Mechanical systems and associated controls that will allow for better environmental emissions and energy efficiency. A new Building Management System controls the building climate based on real-time occupancy and provides immediate notification of maintenance needs.
Awards
News+Video
Video
David Adjaye's appreciation of the MIT Chapel
World-renowned architect and recent McDermott Award winner describes MIT's Eero Saarinen masterpiece.