Overview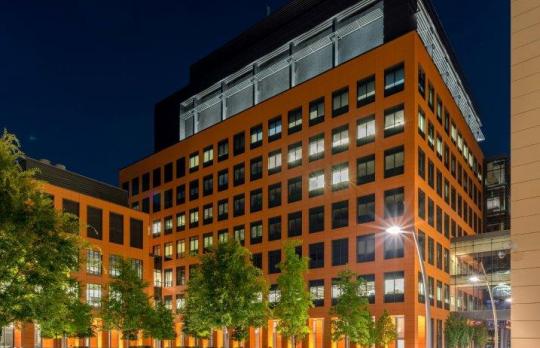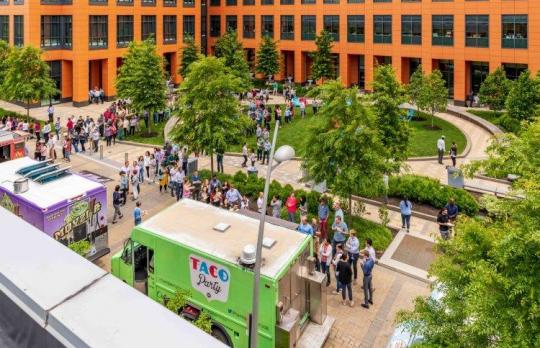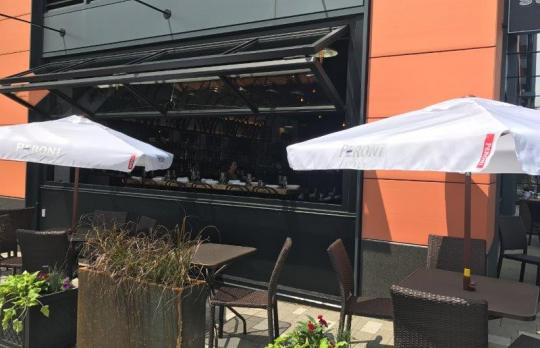 Themes and priorities
Innovation and collaboration
Renovation and renewal
Sustainability
610 Main Street, formerly 610 Main Street North, is home to pharmaceutical firm Pfizer and a variety of innovation tenants. The 280,000 square foot multidisciplinary laboratory facility enhances the growing life-science cluster in the Osborn Triangle and Kendall Square area. In addition to Pfizer, the cluster is home to industry leaders such as Novartis and innovation centers including Lab|Central.
Through the creation of public amenities and open space, this new building advances MIT's interest in improving the innovation environment in Cambridge. It features retail space along Main Street that creates a lively and active urban streetscape, and the Watson Courtyard provides public outdoor space for all to enjoy. In the spirit of creating connections with the community, MIT worked with the Community Art Center (CAC) to create an on-site art installation during construction and offer educational tours and site visits for CAC Teen Media Program students interested in the architecture and construction fields. Further public programming and art installation opportunities are being explored to activate the open space.
With sustainability in mind, 610 Main Street was designed with environmentally responsible features such as electric vehicle charging stations, preferred parking spaces for Low Emitting Fuel Efficient Vehicles, covered bike parking, stormwater mitigation, a reflective roof, water efficient fixtures and irrigation, an energy-conscious design and building envelope, and use of low VOC materials.
Together, 610 Main Street and the One Portland building (formerly known as 610 Main Street South) form a 500,000 square foot LEED-certified research complex.
Image credits
MG Durant and Steve Dunwell
Details
Address
610 Main Street, Cambridge, MA
Design Features
The complex of two seven-story buildings (610 Main Street and One Portland Street) comprises 500,000 square feet of research laboratory facilities above a three-level, 650-space below-grade parking garage
Sustainable Design Elements
Brownfield redevelopment

Storm water filtration system

Reflective roof material to reduce the heat island effect
Heat recovery methods incorporated into HVAC systems

VAV system and right sizing of HVAC equipment to reduce energy use

Low-emitting materials including adhesives, sealants, paints, and carpets

Construction waste management to recycle and salvage waste

Preferred parking spaces for low-emitting fuel-efficient vehicles

Electric vehicle charging stations

Covered bike parking
News+Video
In the News
Pfizer to consolidate its research labs, create unified campus outside Kendall Square; 

Robert Weisman, 

Boston Globe, July 22, 2015
Pfizer opens new state-of-the-art research and development site in Cambridge, MA; Pfizer News, June 16, 2014
Pfizer adopts different style for new research center; 

Robert Weisman, 

Boston Globe

, June 15, 2014

Next stop: Kendall Square, Tech hub attracts players large and small to support innovation; MIT News, November 23, 2011
Digging for answers, MIT, Pfizer hold groundbreaking for new biomedical research facility in Kendall Square; MIT News, November 22, 2011
Inside an innovation ecosystem: History, proximity and serendipity make Kendall Square fertile ground for the next big idea; MIT News, November 22, 2011
MIT, Pfizer break ground on 610 Main, Speakers laud center's significance;

 

The Tech,

November 22, 2011

Novartis & Pfizer to move near campus, New construction to transform area in Central and Kendall Squares;

 

The Tech,

September 27, 2011

Pfizer expands its research footprint in Cambridge: Announces lease of space in building being developed by MIT; MIT News, September 1, 2011