Overview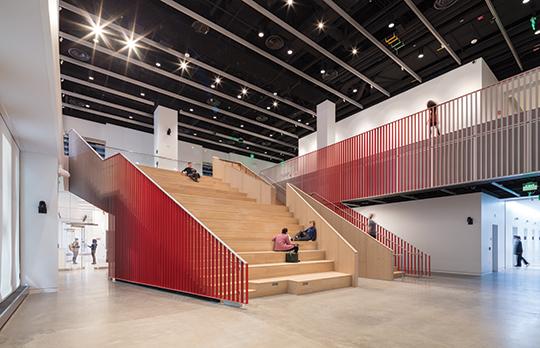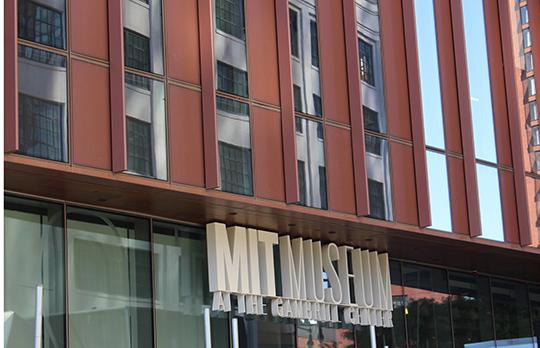 Themes and priorities
Enhancement of life and learning
The MIT Museum at the Gambrill Center — occupying the first three floors of the multipurpose building at 314 Main Street — is designed to "turn MIT inside out" (according to MIT Museum Director John Durant), inviting the community at large to join the conversation and participate in creation.
Within its 56,000 square feet of space, including purpose-built galleries designed by Höweler + Yoon, the Museum reaches out to connect with visitors in a variety of ways. The Museum as a whole is free to all Cambridge residents, and its light-filled lobby is open to the public and can serve as an informal collaboration space and/or a space to feature installations of art, new technologies, and more. The lobby's glass façade softens the boundary between interior and exterior, and its open space concept invites visitors to explore.
Two broad staircases (including the Yuchun and Agustina Lee Family Exchange, a double-height space featuring a massive media wall) function as amphitheaters and gathering areas, leading visitors upward to the spacious galleries on the second and third floors. Together with the stair sequence, the Museum's exhibitions inform an architectural spiral leading visitors through experiences based on cutting-edge ideas in science, art, and technology, anchored by MIT's current research and its historic contributions. Gathering spaces, hands-on learning labs and interactive exhibits, and MIT's only public makerspace punctuate the galleries, making room for visitors to enjoy the kind of inspiring, spontaneous encounters that spark innovation within the Institute.
Seen from the outside, the exterior of the building shifts and changes, a chameleon-like appearance designed by Weiss/Manfredi that amplifies the Museum's longstanding interest in questions of visual perception. The nebulous quality of the building's façade emphasizes the Museum's position as a permeable membrane between MIT, Cambridge and the wider world.
The MIT Museum has achieved LEED-CI v4 Gold certification.
Details
Address
314 Main Street (E28), Gambrill Center, Cambridge, MA
School or Unit
Office of the Provost
Use
Mixed Academic / Retail
Design Features
Three floors of purpose-built museum space
Informative, interactive exhibits and programming, making MIT's art, artifacts, and historical contributions to science and technology accessible to the world
Free general admission to all Cambridge Resident Members
The double-height Yuchun and Agustina Lee Family Exchange event and meeting space features a media wall and is designed to host gatherings, talks, demonstrations, panel discussions, debates, and more
The Ulf B. Heide Education Suite, a fully-equipped education space designed to host activities such as the guided group drop-in activities offered daily, free with Museum admission
Ann Chase Allen Workshop, where students and instructors from MIT and beyond can engage up close with artifacts
Hands-on Ulf B. Heide Maker Hub open to the public, with opportunities to use 3-D printers, sewing machines, laser cutters, and more
Enlarged Museum Store
Event space for meetings and available to rent (Philip A. Sharp Room)
Sustainable Design Elements
LEED-CI v4 Gold certification