Overview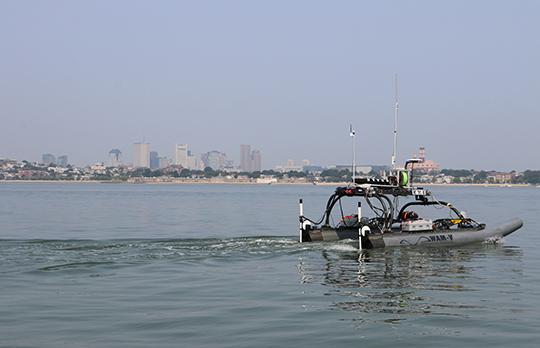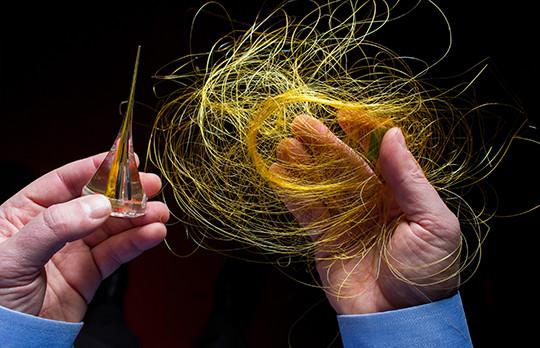 Themes and priorities
Renovation and renewal
Enhancement of life and learning
The rejuvenated brick industrial building at 12 Emily Street (NW98) provides a cohesive home for the MIT Sea Grant College Program, relocating from a more fragmented space in Kendall Square.
MIT Sea Grant undertakes research and educational projects to help provide real-world solutions to coastal issues and concerns. Notable spin-off Bluefin Robotics (now part of General Dynamics Mission Systems) began at Sea Grant's Autonomous Underwater Vehicle (AUV) Lab, which until recently occupied a converted third-floor conference room (the AUV had to be dismantled any time it left or returned to the lab). A consolidation and redesign of space has enabled the Sea Grant program to gain the features it needs within the same square footage, including two large water tanks, an AUV workshop and other new labs, a large classroom, offices, and a conference room, all organized in a single-floor layout with improved access.
NW98's other tenant, AFFOA, is engaged in the manufacturing of revolutionary fabrics — fabrics with the ability to communicate, store and convert energy, adjust size, and more. AFFOA's space includes a clean room, interior glass walls to make prototyping visible to visitors, and a double-height space for "draw towers" that help fabricate fibers from glass.
In addition to being gutted inside, NW98 has also been renewed on the outside. Exterior improvements include all new windows, repointed brickwork, lintel and foundation repairs, and new accessible entrances. Inside and out, the building retains an industrial aspect that harkens back to its roots and references the New England textile industry that lay the foundation for AFFOA's work.
Image credits
S. Brauer, and courtesy Sea Grant
Details
Address
12 Emily Street, Cambridge, MA 02139
School or Unit
School of Engineering (SoE)
Design Features
Complete renovation of building interior and exterior
Exterior brickwork repointed where needed
Lintels and foundation repaired
All new windows installed
Two new main entrances; sidewalk to entrances renovated and made fully accessible
Bike racks (exterior) and interior bike storage added; bike room uses the building's original entrance
Abutter residential properties provided with new fencing, grading, landscaping, and other site improvements
All new mechanical and electrical systems, building controls, and fire alarm system
All new bathrooms and showers
Specific features for MIT Sea Grant include:
Cohesive single-floor layout to improve communication and facilitate use and storage of Autonomous Underwater Vehicle (AUV)
Two large water tanks for testing submersible vehicles; one tank is equipped with a camera
AUV workshop
Several labs including a wet lab
Marine education room
Laser cutting room for constructing vehicle parts
Offices and a large conference space that accommodates the entire staff and facilitates collaboration
Specific features planned for Advanced Functional Fabrics of America (AFFOA) include:
Clean room
Drafting room
Roof bumped up to create double-height space that can accommodate five "draw towers" of varying heights (the tallest is 22 feet) that are central to the process of fabricating fibers
Glass interior walls to make activities visible to visitors
Relocated stairway to open up lobby for views of prototyping area
New elevator added for access to partial second floor
Sustainable Design Elements
Renovation repurposes existing building and retains certain building elements such as interior columns
Updated all-LED lighting
Updates to mechanical and electrical equipment and new building controls increase overall building efficiency
Renovated bathrooms and showers improve water efficiency
New windows and spray foam insulation increase energy efficiency
Energy recovery unit works with lab ventilation unit to recover waste heat or cooled air from vents and re-use it to pre-heat or pre-cool air that will be brought to the interior through the system
Targeting LEED v4 Gold - Design and Construction (Commercial Interiors) based on the addition of bike racks and storage, showers, LED lighting, and efficient HVAC/mechanical systems and building envelope systems as well as the type of products used in construction (green sourcing methods, low VOCs) and proximity to public transportation options