Overview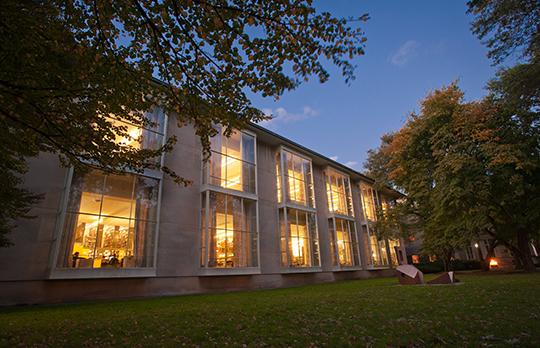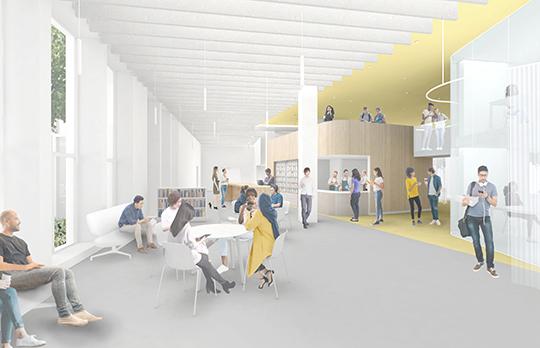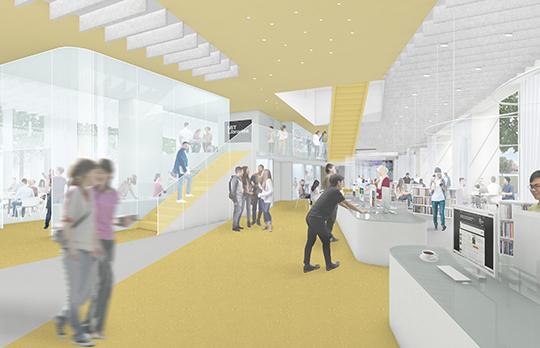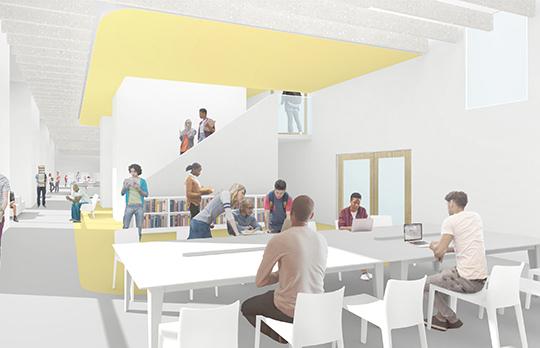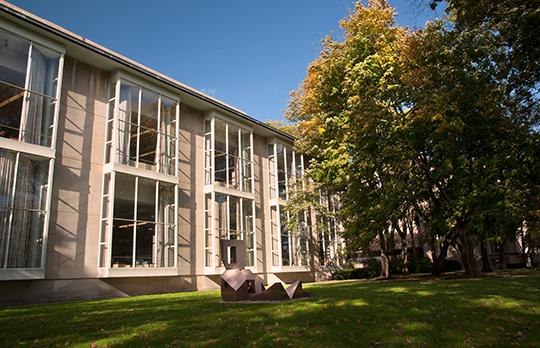 Themes and priorities
Renovation and renewal
Sustainability
Enhancement of life and learning
Originally designed by Voorhees, Walker, Foley & Smith, Hayden Library first opened in 1951 and has served for nearly 70 years as a central element of the campus. MIT is undertaking a project to renew and restore the Library's first two floors, updating the main reading rooms and office spaces to reflect the changing nature of the research library for today's students and faculty.
"We envision the new Hayden Library as a destination on campus," explains Chris Bourg, director of the MIT Libraries, "a place that is open, welcoming, and that invites community members to make connections between ideas, collections, and each other."
The design enables the first floor to serve as a dynamic, flexible community space for dialogue, with a café, a multipurpose event and teaching space, and reservable study rooms to foster interaction and collaboration. On the second floor, the reading room remains a place for quiet study, paired with improved office spaces and consultation areas. The project's scope and development were informed by the 2016 MIT Task Force on the Future of Libraries preliminary report and by community input gathered through surveys, open forums, and workshops held in spring 2019.
Building 14 will also receive a range of infrastructure upgrades including systems improvements to support the new program, required code and accessibility upgrades, enlarged and renovated restrooms, an expanded new elevator, and updates to improve energy performance. Exterior work will include restoration of the north and south windows, repairs to sections of the limestone walls, and refurbishment of the northeast entrance. The project is targeting LEED Gold v4 certification.
Image credits
LB Hetherington and courtesy Kennedy & Violich Architecture
Details
Address
160 Memorial Drive, Cambridge, MA
Design Features
24-hour accessible first floor
Second-floor reading room for quiet study
Individual study spaces, collaboration spaces, and reservable study rooms
Multipurpose event and teaching space
Café
Computing stations
Expanded, upgraded, and inclusive restroom facilities
Expanded, new elevator and new stairway
Improved offices and front-of-house staff support/improvements
Entrance repairs
Code compliance and accessibility upgrades