Overview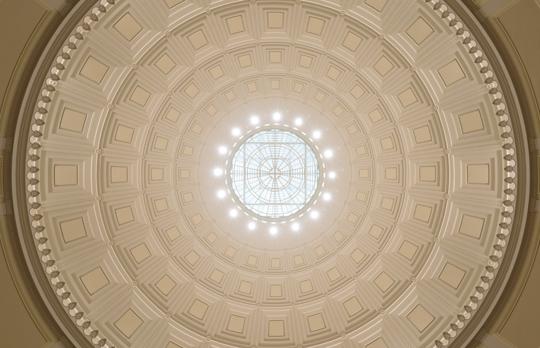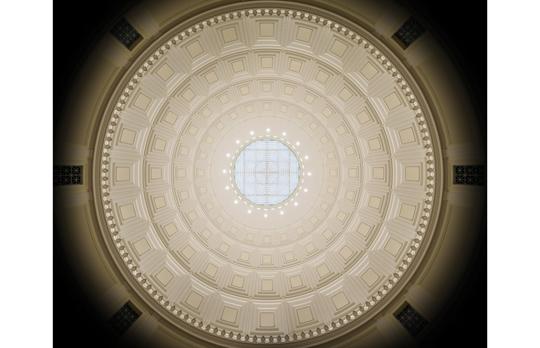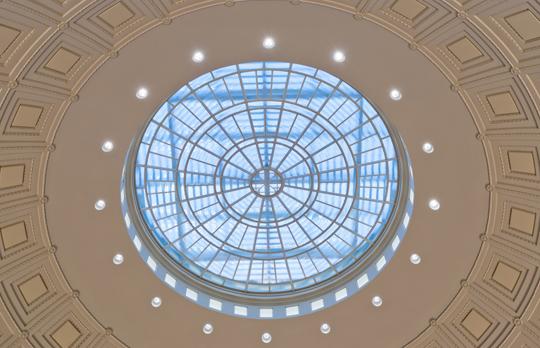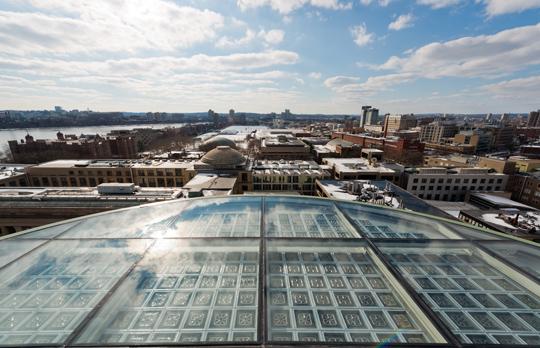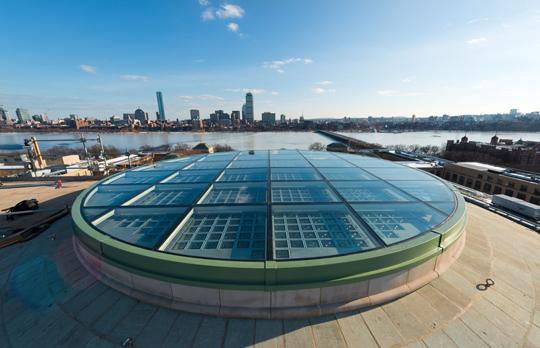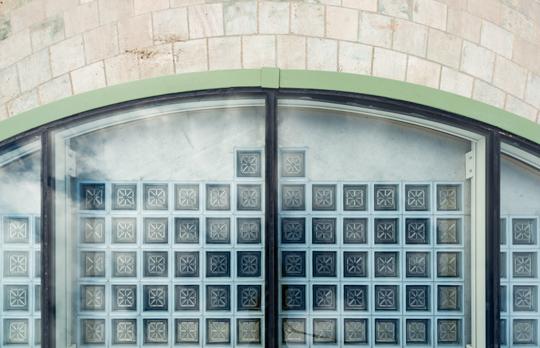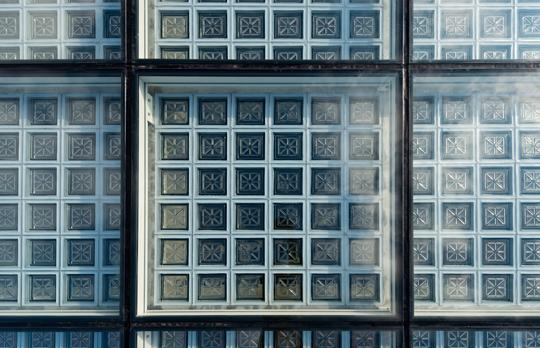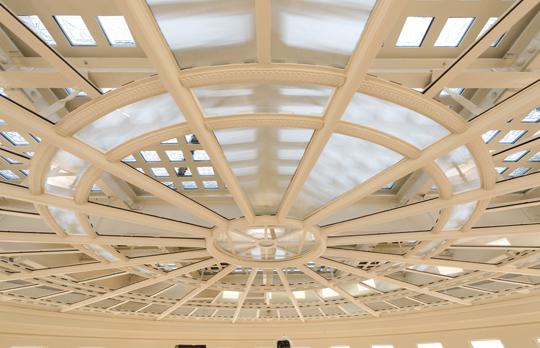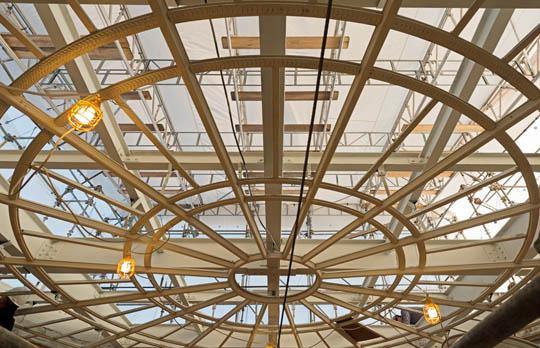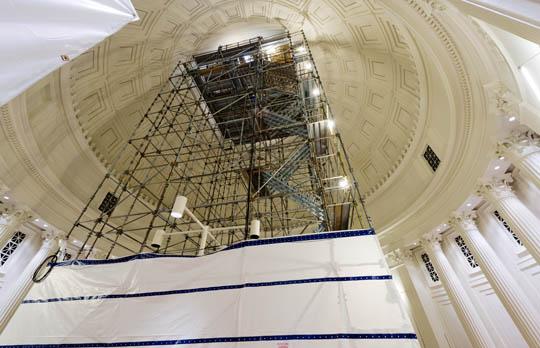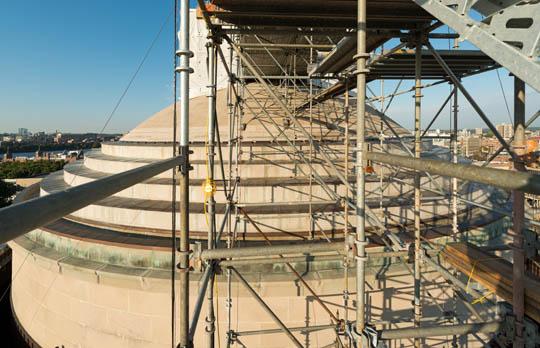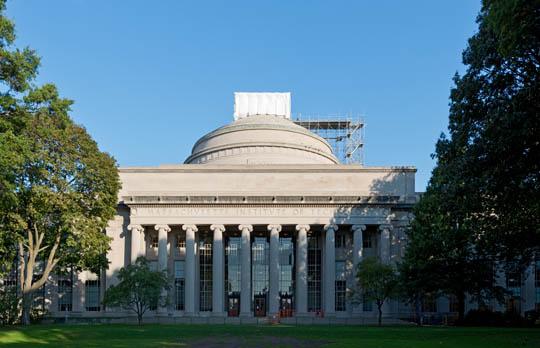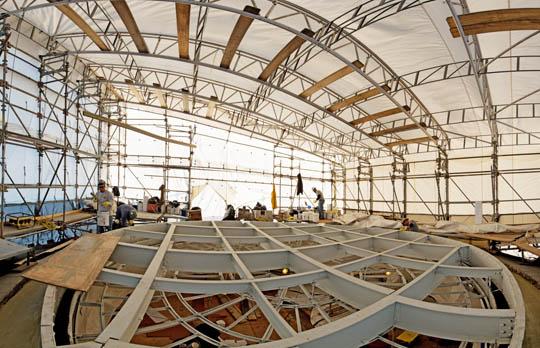 Themes and priorities
Renovation and renewal
Sunlight once again shines through the oculus in MIT's Great Dome, thanks to the restoration of the skylight as originally designed in 1913 by MIT alumnus William Welles Bosworth. MIT blacked out the skylights in buildings 7 and 10 during World War II to evade detection by potential enemy bombers. The 2013 work above the Barker Library in Building 10 follows the Building 7 skylight restoration in 2002.
Hundreds of glass blocks in a stainless steel frame make up the 27-foot diameter skylight, completely replacing the original 1916 construction. The glass blocks are embossed with patterns that concentrate the intensity of the light passing through them by 15 percent. A clear, impact-resistant cover installed above the glass protects the new skylight, a popular location for MIT hacks.
The light flooding through the oculus illuminates the classic architectural details of the newly restored dome interior. The recessed coffers of the ceiling and Corinthian columns ringing the reading room below have been rejuvenated with new plasterwork and restored to their original color scheme following detailed paint analysis. 
Now restored to its original design, the Great Dome was a key feature of MIT's 2016 celebration marking the centennial of the Institute's move from Boston to the Bosworth-designed Cambridge campus. The illuminated library has attracted students to the newly renovated space.
Read about the 2009 restoration project that resolved water leaks threatening the library stacks beneath MIT's Great Dome.
Image credits
Courtesy Shawmut Design and Construction
Details
Address
222 Memorial Drive, Cambridge, MA
Design Features
The new skylight is constructed from  1,042 amethyst-colored glass blocks, each 6-1/4 inches square and two inches deep, set into a stainless steel frame
Glass blocks are embossed with patterns that concentrate the intensity of light passing through them by 15 percent
A lay light consisting of panes of prismatic glass sits a couple of feet below the blocks, spanning the breadth of the oculus, and diffuses the light to illuminate the reading room below
A clear impact-resistant cover is installed over the new glass.