Overview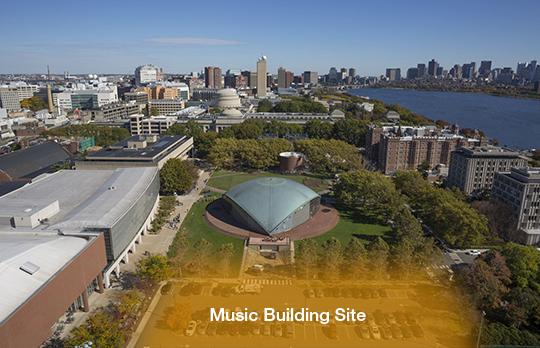 Completion Date
Target 2024
Themes and priorities
Enhancement of life and learning
MIT's conservatory-level music program, offering performance, composition, music technology, and scholarship, is a popular choice; more than 1,500 students enroll in music courses each year, and a variety of ensembles and chamber groups thrive on campus. With the current and future needs of the music program in mind, the Institute is building a new state-of-the-art Music Building that will support the program's curricular requirements.
Sited adjacent to Kresge Auditorium, the building will include spaces for performance, rehearsal, professional-level recording, research, and instruction, as well as a large-scale, purpose-built performance lab that will enable experimentation with various formats. The construction is expected to incorporate acoustical design elements for optimal listening, playing, and recording.
The Music Building project is moving forward thanks to a cornerstone gift from Joyce Linde, a longtime supporter of MIT and the arts. Planning and design activities are underway, with a target completion date of 2024.
The new building's location sites it within an illustrious context, steps away from Kresge and the MIT Chapel, both designed by Eero Saarinen, and close to Baker House, designed by Alvar Aalto. Given this location – also adjacent to the Johnson Athletic Center, the Zesiger Sports & Fitness Center, the Stratton Student Center, and several residential buildings – the project team expects to create a music building that will contribute to the vibrancy and diversity of MIT's evolving West Campus sector.
Image credits
AboveSummit with Christopher Harting
Details
School or Unit
School of Humanities, Arts, and Social Sciences (SHASS)