Overview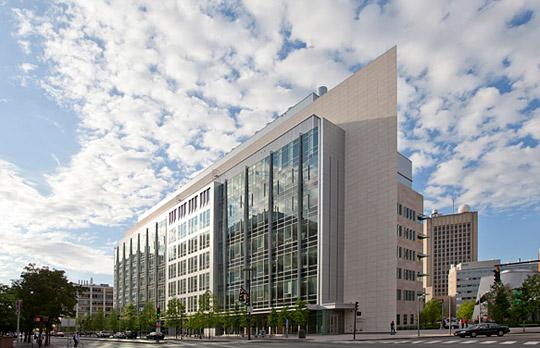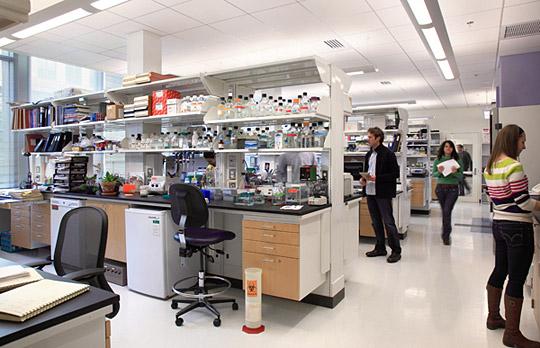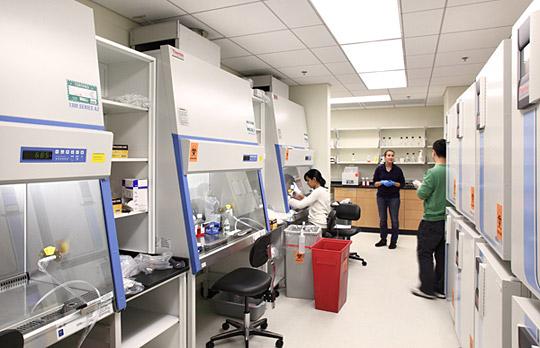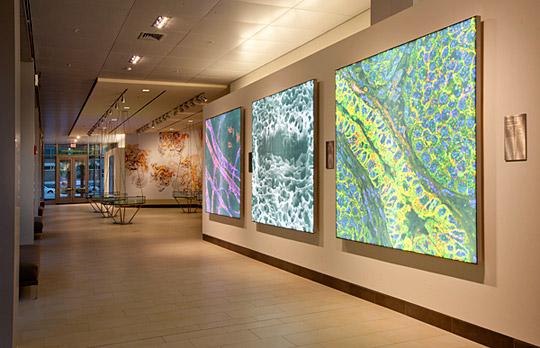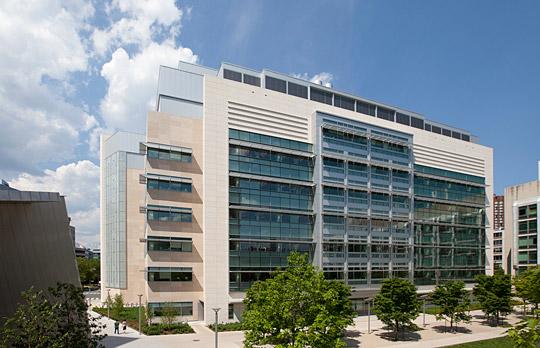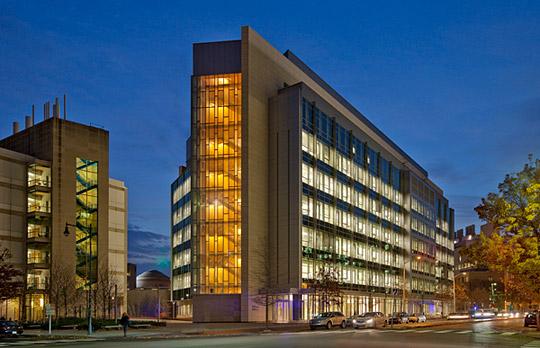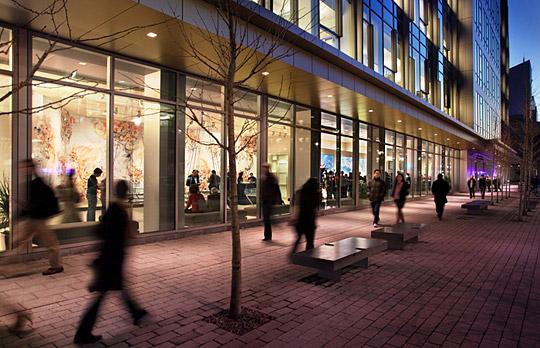 Themes and priorities
Innovation and collaboration
Sustainability
Enhancement of life and learning
Designed to revolutionize the diagnosis, monitoring, and treatment of cancer, the David H. Koch Institute for Integrative Cancer Research fosters information-sharing and collaboration among biologists and engineers working to understand and eradicate the disease. The building's leading-edge laboratory, work, and meeting spaces are adjacent to clustered common areas that promote chance encounters and cross-disciplinary interaction. By integrating innovations in biology, genomics, chemistry, engineering, and computer science, the Koch Institute strives to accelerate the transformation of new discoveries into direct benefits for patients.
The LEED Gold-certified Koch Institute encompasses over 40 laboratories and more than 500 researchers in-house and throughout the campus, transforming and transcending the MIT Center for Cancer Research (CCR) founded in 1974 by Nobel Laureate and MIT professor Salvador Luria. Now the heart of cancer research at MIT, the Koch Institute is one of eight National Cancer Institute-designated basic (non-clinical) research centers in the U.S.
Image credits
Ellenzweig-Associates and Vanderwarker
Details
Address
500 Main Street, Cambridge, MA
School or Unit
School of Engineering (SoE), School of Science (SoS)
Project Team
Architect: Ellenzweig; Cambridge, MA
General Contractor: William A. Berry & Son, Inc.; Danvers, MA
MIT team: Arne Abramson, Martin Deluga, James May, Milan Pavlinic, and Travis Wanat
Design Features
Six floors of research laboratories. The ground floor houses administration offices and meeting facilities, public galleries, a café, and Institute Core Labs.
Sustainable Design Elements
Brownfield redevelopment
Storm water filtration system
Reflective roof material to reduce the heat island effect
Heat recovery methods incorporated into HVAC systems
VAV system and right sizing of HVAC equipment to reduce energy use
Low-emitting materials including adhesives, sealants, paints, and carpets
Low flow fume hoods to reduce ventilation requirements
Low velocity duct work to reduce fan energy
A construction waste management plan that recycles and salvages waste
Awards
LEED Gold certification from the U.S. Green Building Council, 2011
News+Video
Video
View video collection of the dedication of The David H. Koch Institute for Integrative Cancer Research, March 3rd and 4th, 2011