Overview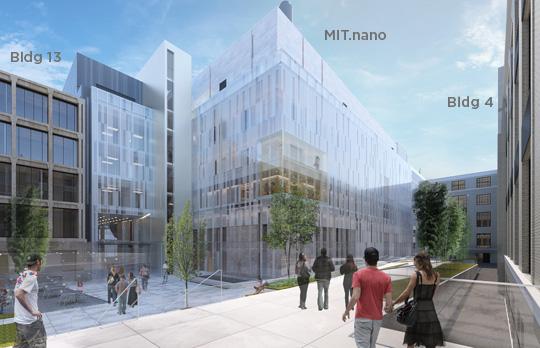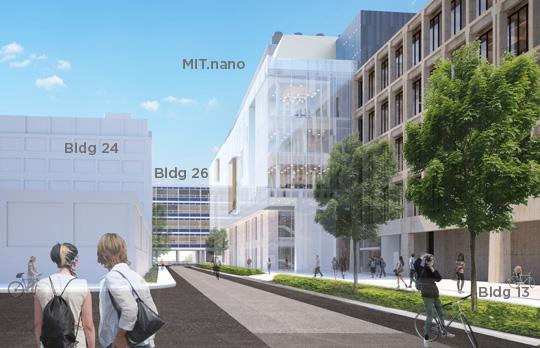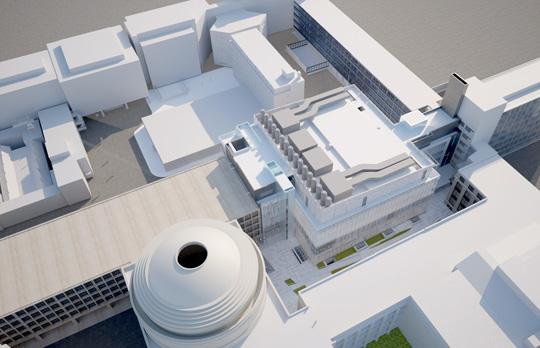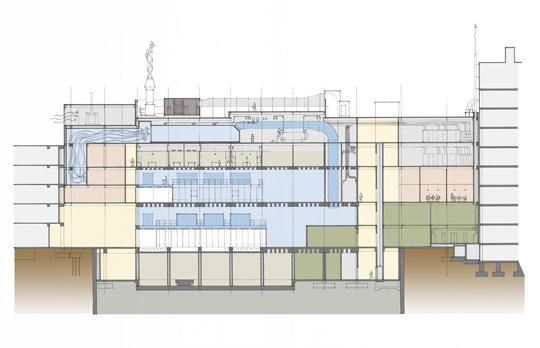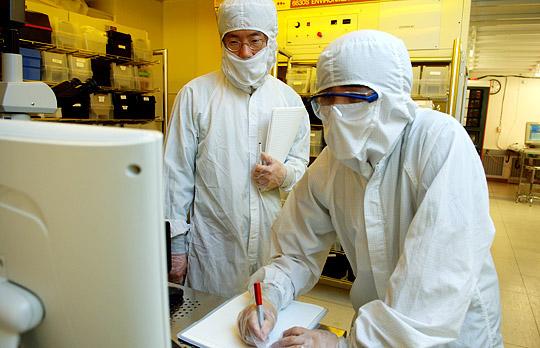 Themes and priorities
Innovation and collaboration
Recent discoveries have caused a revolution in our understanding of how materials behave at the nanoscale (one billionth of a meter). MIT researchers are exploring the ways nanoscience and nanotechnology will impact the urgent challenges of our time in health, energy, computing, and more. The construction of MIT.nano will further these innovations. "Even big problems have answers if you have your hands on the right tools," says MIT President L. Rafael Reif. "Because nanoscience and nanotechnology are omnipresent in innovation today, a state-of-the-art nano facility is the highest priority for MIT, the School of Science, and the School of Engineering."
The MIT.nano facility will combine the Institute's nanotechnology, materials, and engineering systems research with the most advanced fabrication tools and materials processing capabilities. Under a single roof, MIT faculty and students will distinguish and manipulate materials at the atomic scale, create novel and innovative devices, and develop ways to implement those devices within larger systems.
Occupying the footprint of Building 12 just steps from the Infinite Corridor at the heart of the MIT campus, MIT.nano will support the activities of 2,000 MIT researchers. It will streamline delicate experimentation and prototyping by bringing together complex research activities that are currently distributed around campus. A world-class facility, it will modernize MIT's research capacity and deepen the collaboration between disciplines, nurturing game-changing ingenuity and advancing the frontiers of innovation without boundaries, for the betterment of humankind.
Preparation of the building location site began in June 2014. Building construction will proceed through 2017 with occupancy commencing in 2018.
Image credits
Sketches courtesy Wilson Architects, photo by Tony Rinaldo.
Details
School or Unit
School of Engineering (SoE), School of Science (SoS)
Project Team
Architect: Wilson Architects, Boston, MA
Construction manager: Turner Construction, Boston, MA
MIT Team: Arne Abramson, Travis Wanat, Andrew Corson, Robert Cunkelman, Frank Higson, Jack Mannion
Design Features
A 200,000 square-foot facility that more than doubles MIT's shared fabrication and imaging capabilities
Two floors of high-performance cleanrooms optimized for energy efficiency, safety, and future flexibility
Spaces for prototyping and packaging synthesis, imaging and microscopy, materials and thin film growth, and numerical design
The most environmentally quiet space on campus, a basement level optimized to meet the most stringent nanoscale imaging requirements for low-vibration and low electromagnetic interference (EMI)
Meeting spaces for collaboration and conversation, as well as offices for research staff
New undergraduate chemistry teaching laboratories, to support the hands-on experimentation that is critical to training future leaders in science and engineering
A new outdoor courtyard nestled between MIT.nano and the main group, providing an informal setting for the MIT community to congregate and collaborate
Sustainable Design Elements
Creatively designed air filtering systems will maintain cleanroom standards while providing sustainable benefits. A few features include:
Heat recovery on building exhaust
Variable frequency drives on motors that save energy by powering devices up or down based on needs in the space
Lowest pressure drop ductwork and filters
Rightsized exhaust devices that minimize the amount of exhaust needed to maintain the cleanroom air purity and filtration
Additional Information
Schedule:
Work to prepare the site began in June 2014 following MIT Commencement.
Construction activities followed the demolition of the existing Building 12 in 2015 and will continue through 2017.
Building occupancy will commence in 2018.
Keep up to date:
Note: MIT.nano was formerly called nMaSS.
News+Video
Video
An Overview: Faculty and researchers describe the work they will do in the new MIT.nano facility 
Ship in a bottle: Learn what it takes to build a 200,000-square-foot nanoscience center in the heart of campus 
The big dig: The excavation for MIT.nano required MIT to truck out 1,000 yards of sand every day