Overview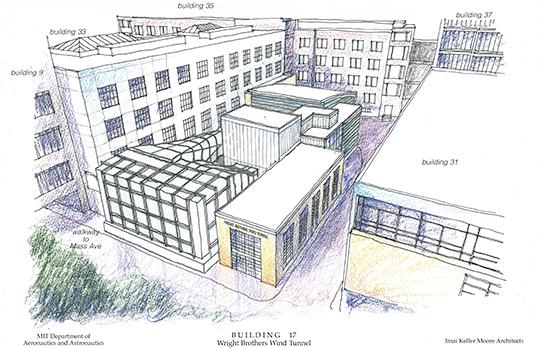 Themes and priorities
Innovation and collaboration
Renovation and renewal
Enhancement of life and learning
Since it first opened in September 1938, MIT's Wright Brothers Wind Tunnel has been an instrumental tool in the development of aerospace, architectural, vehicular, sports, and other engineering systems. Testing at the facility has ranged from aircraft and ground structure aeroelasticity to the aerodynamics of subway station entrances, space suits, racing bicycles, and Olympic ski suits. After 80 years of service, the landmark facility is now undergoing a renovation and modernization project.
The new tunnel will incorporate state-of-the-art technologies and equipment that will expand its capacity while lowering its fan motor power consumption. With a planned test area volume of 1600 cubic feet and the ability to test speeds up to 200 mph, it is expected to be the largest and most advanced academic wind tunnel in the nation. Located at Building 17 on the site of the current tunnel (which will be dismantled), the new facility will retain the Wright Brothers Wind Tunnel name.
Renovation plans include updated control facilities, a full rehabilitation of Building 17, and infrastructure updates in Building 37 and in the Building 33 Hangar. The project will also create direct connections between the tunnel and AeroAstro workshops.
Image credits
Imai Keller Moore Architects
Details
Address
76 Vassar Street, Cambridge, MA, 02139
School or Unit
School of Engineering (SoE)
Scope
Approximately 5,500 gsf
News+Video
Video
Harnessing the Wind at MIT: Wright Brothers Wind Tunnel (2012) 
MIT Professors Judson R. Baron and Eugene E. Covert, pioneers in aeronautics, discuss the early days of MIT's state-of-the-art Wright Brothers Wind Tunnel, which investigated problems related to supersonic flight, and became an essential tool in the examination of aerospace, architectural, vehicular, and other engineering systems. (1997)