Overview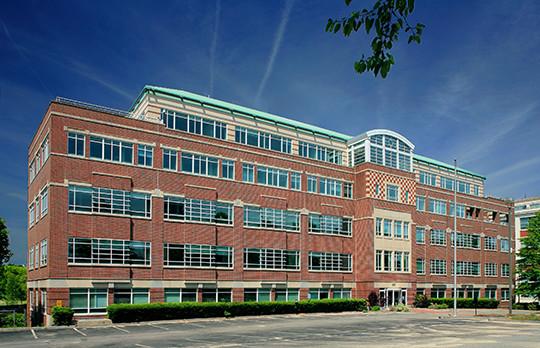 Themes and priorities
Innovation and collaboration
Renovation and renewal
Acquired in 2014 by MIT, 620 Memorial Drive is a 90,000 SF, five-story lab building formerly occupied by Pfizer Pharmaceuticals (now relocated to its new Osborn Triangle facility, built by MIT). The full renovation of 620 Memorial enabled the building to accommodate a new set of commercial lab research tenants.
The renovation process upgraded all interior spaces and reconfigured the space for multiple users. New common amenities including a shared meeting room and kitchen were added to encourage collaboration. Other upgrades included new, more efficient mechanical systems.
Now fully occupied, the building is home to several innovative biotechnology companies. The space serves a much-needed demand for small but growing life science start-ups, and current tenants include Evelo Therapeutics, Scholar Rock, Syros Pharmaceuticals, and VL-46. The building was fully leased in 2015, and MIT enabled the majority of tenants to shuffle their space within the building in 2018. This made it possible for existing tenants to expand or contract their footprint and extend their lease terms while the building continued to maintain 100% occupancy.
The renovated building advances MIT's mission by extending the life science cluster and supporting innovation and economic activity in Cambridgeport and at MIT. As an enhancement to the area, it is attracting new companies pursuing groundbreaking work. Advancements that could be realized at 620 Memorial Drive include new cancer and autoimmune therapies, targeted treatment for diseased cells, and gene controls to treat cancer and other diseases.
Image credits
Courtesy of Cushman & Wakefield
Details
Address
620 Memorial Drive, Cambridge, MA
Sustainable Design Elements
Building re-use
Construction waste management to recycle and salvage waste
Enhanced energy commissioning and performance
Low-emitting materials including adhesives, sealants, paints, and carpets
Preferred parking spaces for low-emitting fuel-efficient vehicles
Electric vehicle charging stations
Water efficient landscaping
LEED Gold certified