Overview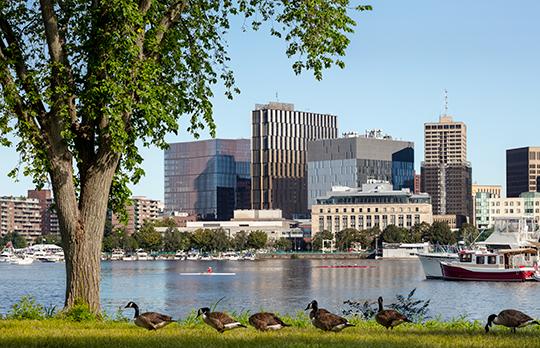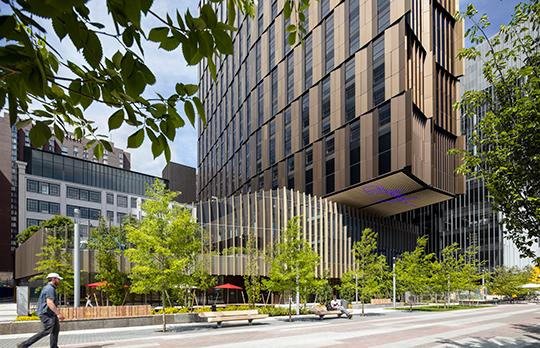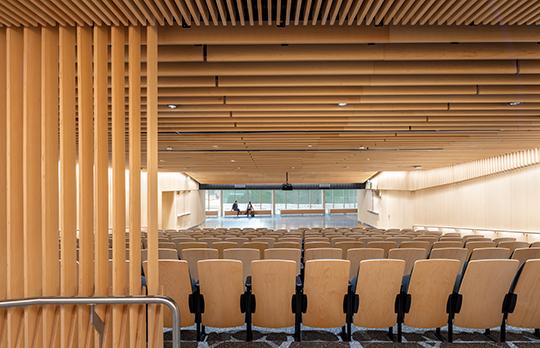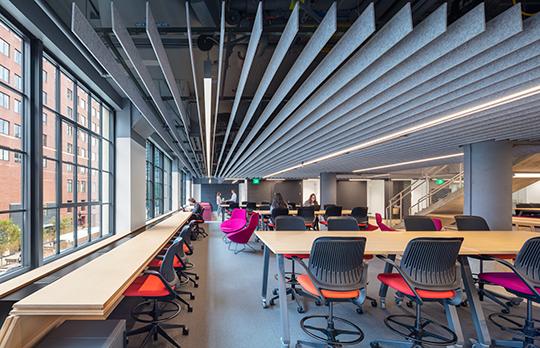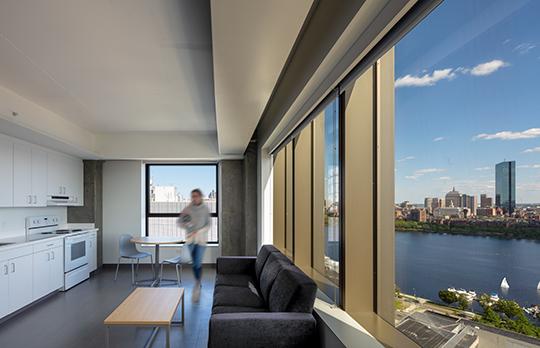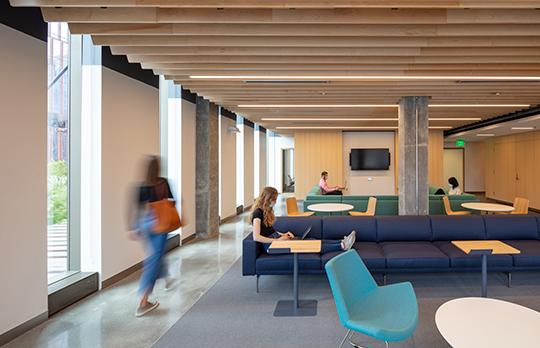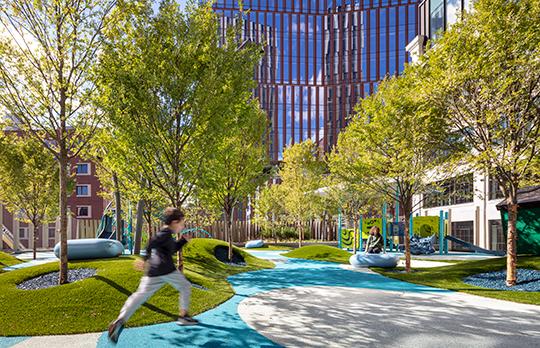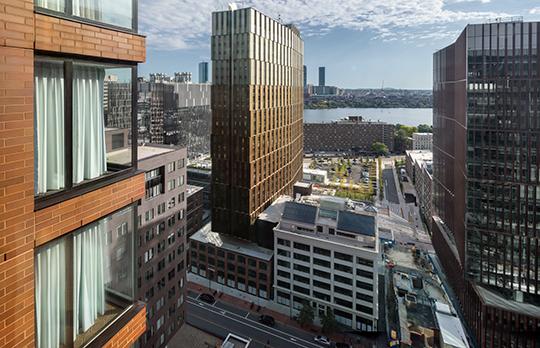 Themes and priorities
Innovation and collaboration
Renovation and renewal
Sustainability
Enhancement of life and learning
Responding to the need for additional graduate student housing, MIT embarked on a project in Kendall Square that addresses this need and creates a vibrant new innovation center as well as a new home for Admissions.
The Site 4 project completely renovated two existing buildings on Main Street (E38 and E39, now grouped together as E38) to accommodate ground-floor retail space and the Admissions offices on the second floor. The new Welcome Center, a gift of Tina Moghadam and Hamid Moghadam '77, SM '78, features a 200-seat auditorium, moveable walls, and art installations including an illustrated "Welcome Wall" and a rotating story wall. Above the Center, existing space in E38 has been transformed into a new Innovation and Entrepreneurship Hub providing open, multi-use spaces for student makers and entrepreneurs, researchers, and staff, and a new home for the MIT Innovation Initiative.
Within E38, the renovations also created program space for three sustainability groups: the Office of Sustainability (MITOS), the Environmental Solutions Initiative (ESI), and the Abdul Latif Jameel Water & Food Systems Lab (J-WAFS). Additionally, E38 provides a new home for the Open Space Programming group.
Rising above the eastern side of E38, the newly constructed residential tower (Building E37) provides 454 housing units (2-bedroom, 1-bedroom, and efficiencies) for MIT graduate students. The residential tower is anchored by a three-level podium housing a childcare facility and common space for the residents.
In a variety of ways, Site 4 is designed to serve as a bridge between the MIT campus and the City of Cambridge. The entire ground floor of the Forum features floor-to-ceiling windows that offer a view of the activity within. When not engaged for Admissions activities, the auditorium will be available to other MIT groups and to the broader Cambridge community. Along its southern side, Site 4 borders an open space designed to encourage pedestrian traffic, offering trees, landscaping, and seating as well as space for special and seasonal events.
With its central location, Site 4 will help power the exchange of ideas by situating MIT problem solvers among industry innovators, and its active ground floor uses foster a dynamic and engaging environment that adds vitality to Kendall Square and MIT's east campus.
Site 4 has access to underground parking developed as part of the Kendall Square project and provides long-term and short-term bicycle parking. It is targeting LEED v4 Gold certification.
Details
Address
290-292 Main Street, Cambridge, MA
Use
Mixed Academic / Retail / Residential
Project Team
Design Architect: NADAAA, Boston, MA
Architect of record: Perkins+Will, Boston, MA
Construction manager: Turner Construction, Boston, MA
MIT Team: Nicole Bernabei, Christos Maravelias, Paul Ricci, Sonia Richards
Scope
approx. 426,146 gsf
Design Features
Graduate student residence tower providing approx. 454 units including family units (units include 2-bedroom, 1-bedroom, and efficiencies); tower façade clad primarily in bronzed anodized aluminum panels; common areas include quiet study spaces, a family lounge, a playroom, terraces, and multipurpose rooms
New childcare center serving the entire MIT community, offering care for toddlers and preschoolers, adjacent to an outdoor playground area shared with the residents
New home for MIT Admissions, including a reception area, expansive gathering spaces, meeting rooms, and offices for staff and the dean
200-seat auditorium with floor-to-ceiling windows and movable walls for flexible configuration; its shared programmable space can be used for presentations by Admissions, other MIT groups, or the broader Cambridge community

Program space for three sustainability groups: the Office of Sustainability (MITOS), the Environmental Solutions Initiative (ESI), and the Abdul Latif Jameel Water & Food Systems Lab (J-WAFS) 

New home for the Open Space Programming group, which works to create welcoming, inclusive open-space programs and events designed to engage the MIT, Kendall Square, and Cambridge communities

Existing space in E38 restored and transformed into the Innovation and Entrepreneurship Hub, with open, multiuse spaces for student makers and entrepreneurs, researchers, and staff, and a new home for the MIT Innovation Initiative
Existing façades of repaired and improved for better thermal performance; concrete surfaces restored to recall the original cast-in-place concrete façade; brick repointed as necessary
Ground level retail space offering a mix of uses to encourage active engagement during the day and on evenings and weekends
Open space to create pedestrian links and provide trees, landscaping, and seating, as well as space for special and seasonal events
Six-level underground parking garage located below the graduate student tower and adjacent open space; includes short- and long-term bicycle parking spaces
Sustainable Design Elements
Restoration and reuse of existing buildings
Façades repaired and improved for better thermal performance
New, energy efficient windows in both buildings that will recall the original historic windows in proportion, detail, color, and character 
Ample bicycle parking spaces
Targeting LEED v4 Gold Certification
Prioritization of systems that conserve energy and reduce greenhouse gas emissions while benefitting occupant comfort and providing reliability and ease of maintenance, including:
Variable frequency drives for hot and chilled water loops
Valance units within the residential units
Heat recovery devices in the dedicated outside air units serving the residences
Enhanced heat recovery effectiveness for air handling units serving non-residential areas
Enhanced lighting power density and lighting controls
Low-flow shower heads for residential and non-residential areas which not only reduce water consumption but also reduce demand on the Domestic Hot Water service, resulting in energy savings