Overview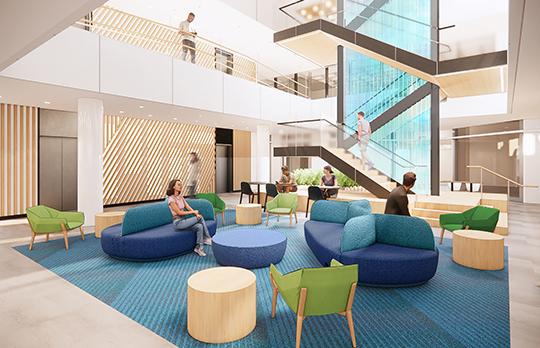 Themes and priorities
Renovation and renewal
Enhancement of life and learning
Designed by Eduardo Catalano, then a professor of architecture at MIT, the Stratton Student Center opened in 1968; since then, the needs of the student community have evolved, and the building's infrastructure has aged. MIT has undertaken a strategic improvement project to update key aspects of the infrastructure and strengthen the Student Center as a campus hub focused on wellbeing, performing arts and dance, healthy eating, and community building, where students can relax and recharge.
Project plans – developed with input from student working groups and community feedback – include a new Wellbeing Lab for students on the third floor, and the reinforcement of a "lounge network" to encourage informal gatherings and collaboration on each floor of the building. This network will include a new flexible lounge on the first floor, a revitalized Stratton Lounge on the second floor, and repurposed space on the fourth floor. The fourth floor will also have two upgraded multipurpose rooms to accommodate dance and movement activities as well as community gatherings.
Additional planned improvements include constructing a new central stairway, placing new lights and greenery throughout the building, and refreshing outdated finishes using warmer materials and colors. Accessibility upgrades and improvements indoors and outside are also planned.
Details
Address
84 Massachusetts Ave, Cambridge, MA 02139
School or Unit
Division of Student Life
Use
Mixed Administrative / Retail / Student Life