Overview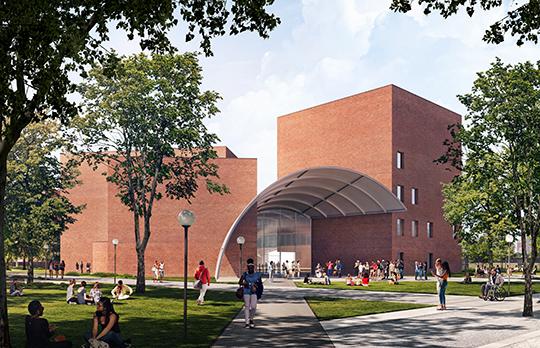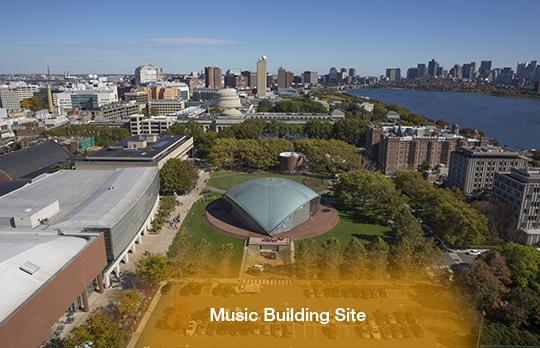 Themes and priorities
Enhancement of life and learning
MIT's conservatory-level music program is thriving; more than 1,500 students enroll in music courses each year, and the campus is home to a variety of ensembles and chamber groups. Now under construction, the new state-of-the-art Music Building is expected to support the popular program's current and future needs and curricular requirements.
Designed by SANAA, the building's three corresponding volumes will house performance, rehearsal, and recording spaces as well as a large-scale, purpose-built performance lab. The brick-clad volumes – the Performance Lab Pavilion, the Music Maker Pavilion, and the Music and Culture Pavilion – will be connected by a glass-walled lobby providing multiple entrance points. Each volume will incorporate sound-insulating walls and world-class acoustical design. Below grade, a two-level garage will provide 120 parking spaces.
The building is sited within an illustrious context that includes Kresge Auditorium and the MIT Chapel (both designed by Eero Saarinen) and Baker House, designed by Alvar Aalto. In response, its design incorporates strong geometry, red brick, a stand of trees, and a curving curtainwall and roof that are a visual extension of nearby Kresge. The building's proximity to the Johnson Athletic Center, the Zesiger Center, the Stratton Student Center, and several residential buildings is reflected by entrances that relate to the pedestrian walkways outside and invite people to pass through the airy, open lobby.

Intended to advance the vibrancy and diversity of MIT's evolving West Campus sector, the Music Building was made possible by a cornerstone gift from Joyce Linde, a longtime supporter of MIT and the arts. The project is targeting LEED v4 Gold certification or above.
Image credits
AboveSummit with Christopher Harting
Details
School or Unit
School of Humanities, Arts, and Social Sciences (SHASS)
Scope
approx. 34,000 gsf (plus 64,650 gsf of parking below grade)