Overview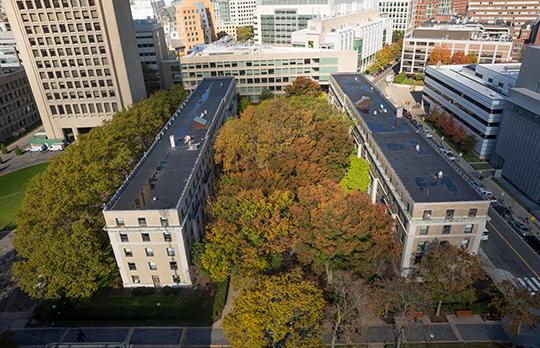 Themes and priorities
Renovation and renewal
Sustainability
Enhancement of life and learning
First opened in 1924 (and partially funded by the MIT Class of 1893 alumni), the East Campus undergraduate residence consists of two five-story buildings (known as "parallels") facing each other across a long courtyard. The centrally-located residence is home to approximately 380 undergraduate students living in ten culturally-distinct living communities or "halls," one on each of the ten floors.
On the brink of the residence's second century, MIT is planning a comprehensive renovation of East Campus to renew infrastructure, update life safety systems and accessibility, and improve the student resident experience. The project is expected to update or replace mechanical, electrical, plumbing, fire protection, and technology infrastructure as well as provide a structurally sound, weather-tight building envelope. Iconic elements will be preserved, from the shape of the buildings to the shared tree-filled courtyard where East Campus residents erect their expansive "Build" project — past projects have included a roller coaster and a 4-person seesaw powered by a "gravity battery"— during Residential Exploration (REX) week every September.
The project team has been collaborating with the East Campus Transition Team (a working group composed of student residents, members of the house team, and staff from the Division of Student Life) and the broader East Campus community on the student life elements of the project. These elements include enlarged floor lounges as well as enlarged and renovated kitchen areas with refreshed finishes and new appliances to support a cook-for-yourself culture in each of the ten student "halls." Each community hall will also have upgraded bathrooms and large, moveable wall panels to support student artwork (East Campus wall murals have been a tradition at MIT since the 1970s).
For the buildings' common spaces, the design includes enhancing and enlarging the Talbot Lounge and kitchen in a new location on the first floor (in the north end of the west parallel). To promote student wellbeing and artistic expression, the music rooms will be updated in new locations and the fitness room will be moved out of the basement and updated. The East Campus makerspace will be brought up from the basement to the ground floor to enhance the making process and facilitate courtyard builds, and the courtyard itself will undergo improvements such as surface upgrades and the creation of additional seating areas.
To support the East Campus community's commitment to inclusion, the design incorporates accessibility improvements anchored by new, accessible elevators located in two new light-filled lobbies – one for each building – that will serve as primary entrances. Reconfigured hall layouts are designed to facilitate flow through the buildings, and new windows at the ends of the corridors will increase the amount of interior natural light.
Image credits
Christopher Harting
Details
Address
3 and 5 Ames Street, Cambridge, MA
School or Unit
Division of Student Life