Overview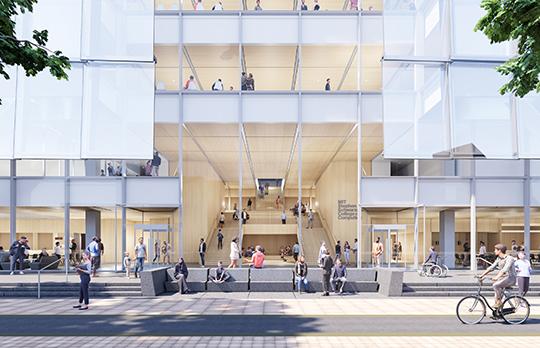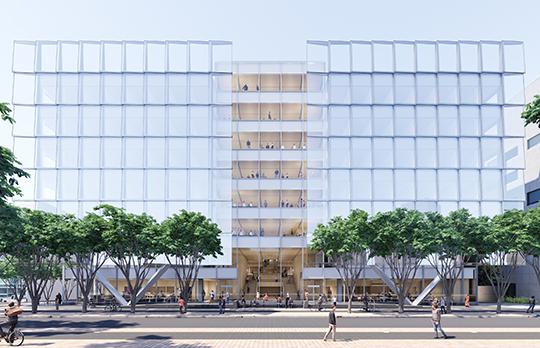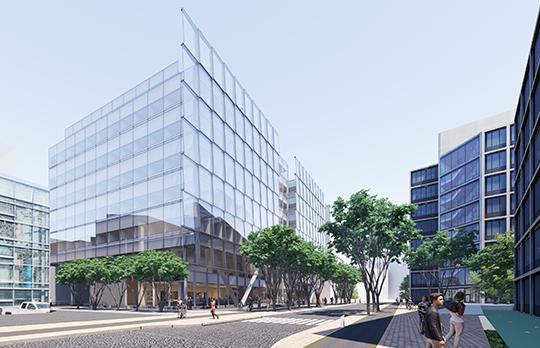 Themes and priorities
Innovation and collaboration
Enhancement of life and learning
Construction is underway on Building 45 to establish a headquarters for the MIT Stephen A. Schwarzman College of Computing, established in 2019. The College is a unique interdisciplinary organization for research and education addressing the opportunities and challenges of the computing age — from hardware and software to algorithms and artificial intelligence — focused on three key areas: computing fields, computing across disciplines, and the social and ethical aspects of computing.
Centrally located at the former site of Building 44 on Vassar Street, Building 45 is designed to provide state-of-the-art research and education space, including two laboratories designed for multiple uses such as digital fabrication and robotics. Convening areas are expected to include a 250-seat lecture hall, spaces for project-based student work, and collaborative and gathering spaces to facilitate spontaneous interactions. The building's shingled-glass façade and transparent elements will further encourage interaction and engagement between the community and the College. Research spaces will be concentrated on the building's middle floors, and plans for the top floor include an event space and outdoor terrace offering views of the campus and the Boston skyline.
The MIT Schwarzman College of Computing engages faculty, students, and collaborators across a broad array of disciplines to pursue education, research, and innovation in computing and artificial intelligence (AI). Its reach extends from sciences and engineering to architecture and urban planning, business management, and the humanities and the arts. Building 45 is designed to reflect this uniquely broad yet focused approach, which aims to generate and support world-changing, multidisciplinary solutions grounded in computer science and AI innovations
The project team is targeting LEED v4 Gold certification at a minimum.
Image credits
Courtesy SOM
Details
Address
51 Vassar Street, Cambridge, MA
School or Unit
College of Computing
Project Team
Architect: Skidmore, Owings & Merrill (SOM), New York, NY
Construction manager: Suffolk Construction, Boston, MA
MIT Team: Emma Corbalán, Travis Wanat