Overview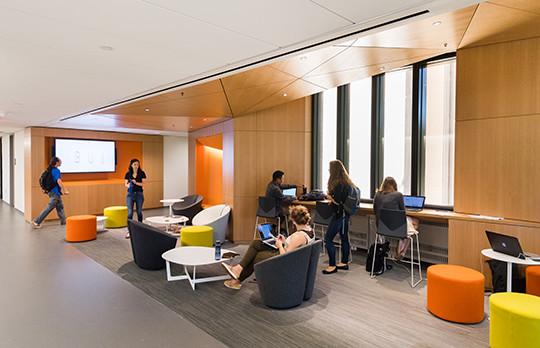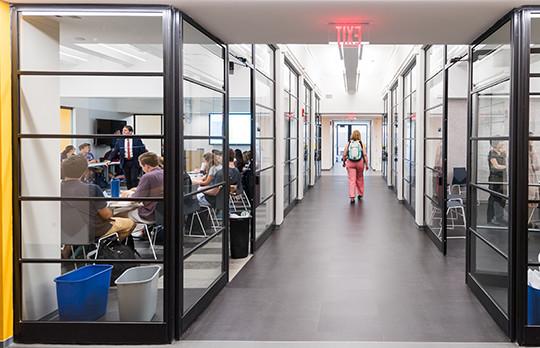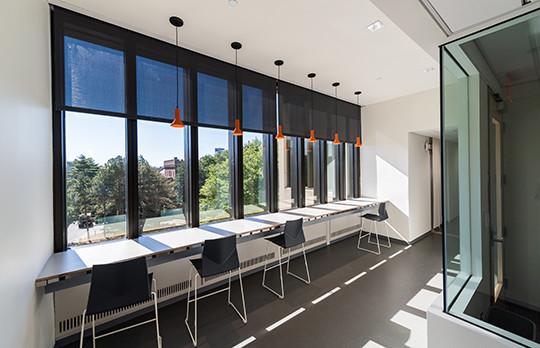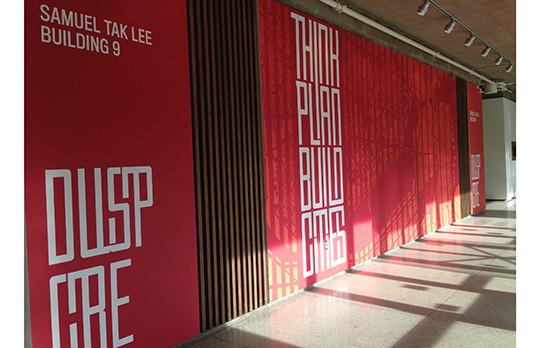 Themes and priorities
Innovation and collaboration
Renovation and renewal
Enhancement of life and learning
The renovation of MIT's Samuel Tak Lee Building (Building 9) established a welcoming home for the Samuel Tak Lee MIT Real Estate Entrepreneurship Lab. Founded in 2015, the STL Lab promotes social responsibility among entrepreneurs and thought leaders in the real estate and urban development fields, with a particular focus on China.
Originally built in 1968, Building 9 was designed by architect William Netsch and Skidmore, Owings, and Merrill. The six-story structure provided a vital link between Buildings 7, 13, and 33, and served as the original home for MIT's Center for Advanced Engineering Study (CAES). Among the building's notable features are a limestone veneer exterior and an abbreviated tower.
Current occupants of the building include the Department of Urban Studies & Planning (where the STL Lab is housed), the MIT Center for Real Estate, and the Office of Digital Learning. The renovation created dedicated space for the STL Lab while integrating it with existing uses to produce a multipurpose hub of planning and development activity. The centerpiece of the new configuration is a flexible "city arena" on the second floor where students, faculty, and guests can work together in an interactive workspace supported by cutting-edge communications and presentation technology.
In addition to the overall modernization of its classroom and office spaces, the building received major infrastructure upgrades, including new windows and air handling equipment, to improve energy efficiency and accessibility.
Image credits
Tom Gearty, Justin Knight, Monica Lee
Details
Address
105 Massachusetts Avenue, Cambridge, MA
School or Unit
School of Architecture and Planning (SA+P)
Project Team
Architect: Utile, Boston, MA
Construction manager: Elaine Construction, Newton, MA
MIT Team: Julie Azzinaro, Janis Burke, Joseph Collins, Thayer Donham, Mark Winter
Design Features
Programmatic renovations including new faculty offices, classrooms, workshops, and meeting spaces
New air handler to feed Floors 2-6
All new double-glazed, energy-efficient windows
Accessibility improvements include new elevator to access sixth floor, improved ramps between Building 9 and neighboring buildings, and new accessible restrooms
Additional efficiency and accessibility updates
Sustainable Design Elements
New exterior wall insulation increases overall building efficiency
Renovated bathrooms improve water efficiency
New windows increase energy efficiency
Increased efficiency due to new air handler and related components