Overview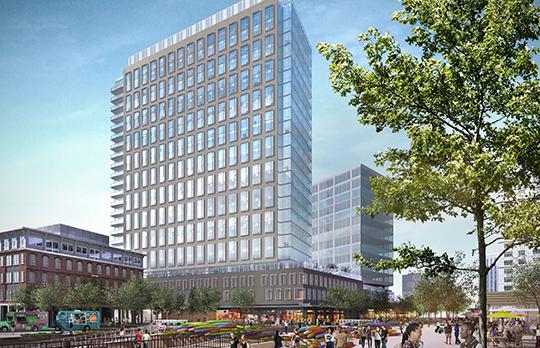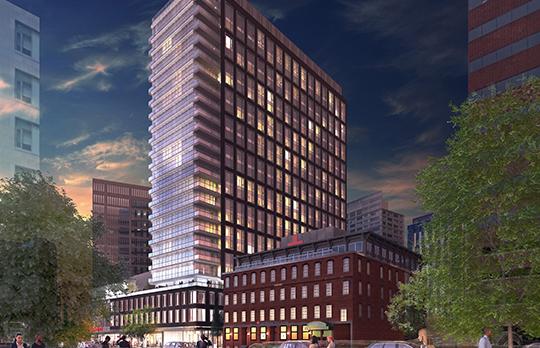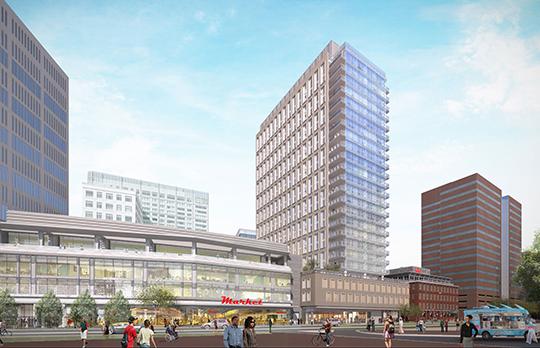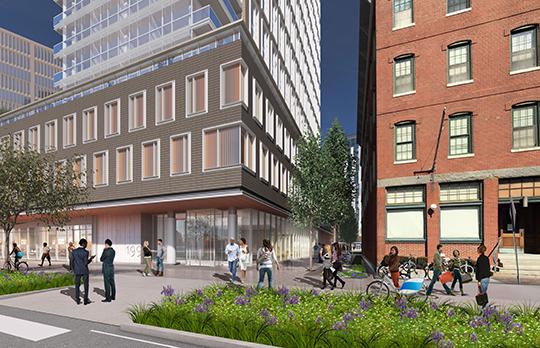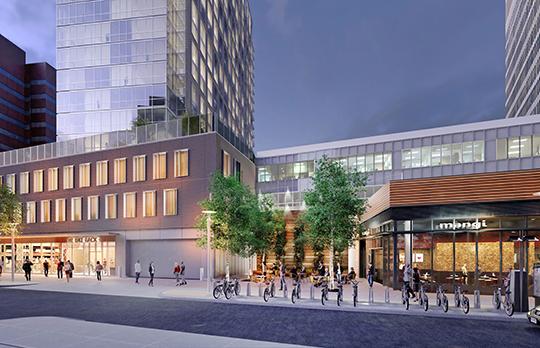 Themes and priorities
Innovation and collaboration
Sustainability
The building at 165 Main Street will bring 300 residential units to the heart of Kendall Square, including 52 affordable and 10 middle-income units serving families of all sizes. More than 8,000 square feet of retail will wrap around all sides of the ground floor, extending the retail corridor at One Broadway.
Designed by Elkus Manfredi Architects, the 275-foot structure will capitalize on the site's unmatched views of the Charles River and Back Bay. Proposed features include outdoor terraces for 15% of the units, a nearly 14,000 SF amenity deck (with views of Kendall Square, the river, and Boston), a water feature, fire pits, grilling stations, and green space. Additional residential amenities are expected to include a resident lounge with open work space, a package room with refrigeration for groceries, storage units, 360 indoor bicycle parking spaces, and a state-of-the-art fitness center with floor to ceiling windows, a spinning studio, and a yoga studio.
Through a connection with One Broadway, 165 Main Street will have access to a Brothers Marketplace, restaurants, and convenience retail. Its ground floor space will include a bike repair station and is expected to house restaurants and other active uses that capitalize on the access to Broad Canal Way, the Broad Canal itself, and a newly designed park behind 139 Main Street.
To maximize views, the residential units at 165 Main will begin on the 5th floor, above the retail uses, lobby level, two levels of parking, and the tenant amenity deck. The development will be served by 150 parking spaces in the extended One Broadway garage.
Image credits
Courtesy Elkus Manfredi Architects
Details
Address
165 Main Street, Cambridge, MA 02142
Use
Mixed Retail, Residential
Design Features
300 units of housing, including 52 affordable units and 10 middle income units
Ample indoor bike parking in addition to a commuter-oriented bike station with easy access to the Kendall T station
Landscaping along Broad Canal Way with public seating and space for outdoor restaurant seating
Retail and active uses on all sides of the building to create a more comfortable urban environment and maximize retail amenity space
Integrated with One Broadway to create a full block of publicly accessible community amenities and retail spaces
Sustainable Design Elements
Targeting LEED Gold v4 certification
Brownfield redevelopment
Reflective roof material to reduce heat island effect
Water use reduction
Heat recovery methods incorporated into HVAC systems
Right sizing of HVAC equipment to reduce energy use
Low-emitting materials including adhesives, sealants, paints, and carpets
Construction waste management