Overview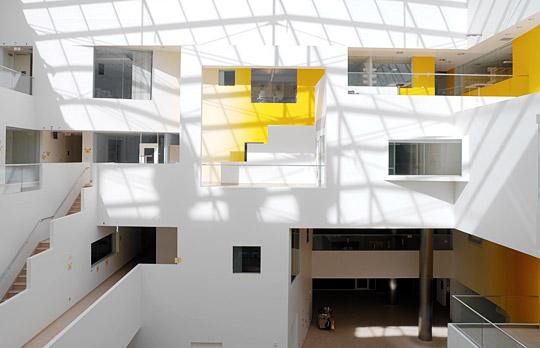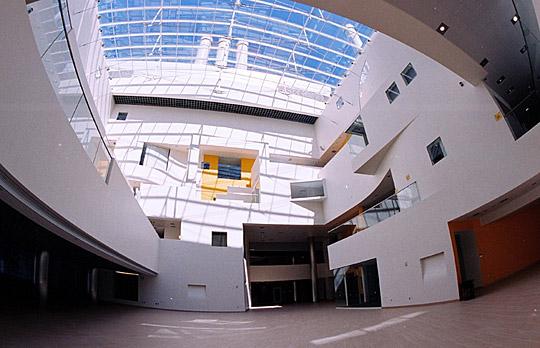 Themes and priorities
Innovation and collaboration
Sustainability
Enhancement of life and learning
MIT's extensive Brain and Cognitive Sciences Complex is an exemplar of collaborative design – and is designed to inspire further collaboration.
Developed by two architecture firms working together, the complex reflects the extraordinary vision of the lead designer, Charles Correa, and the exceptional design of laboratories and research spaces by Goody, Clancy and Associates. The largest neuroscience center in the world, this interdisciplinary research and teaching facility now integrates three pioneering institutions pursuing crucial discoveries: The Department of Brain and Cognitive Sciences, the McGovern Institute for Brain Research, and The Picower Institute for Learning and Memory.
A triumph of urban design and engineering, the LEED Silver-certified complex sits on top of an active freight rail corridor and is built around a soaring five-story atrium. Classrooms, offices, conference rooms, wet and dry laboratories, imaging centers, libraries, tearooms, an auditorium, and a five-story atrium coexist with—and contribute to—the life of the surrounding community. In addition, the new trees, lighting, paving, and bicycle lanes surrounding this complex have helped revitalize this formerly run-down section of Vassar Street.
Image credits
Andy Ryan and courtesy Turner Construction
Details
Address
43 Vassar Street, Cambridge, MA
School or Unit
School of Science (SoS)
Design Features
90-foot-high atrium
Auditorium and seminar rooms
State-of-the-art research laboratories
Teaching laboratories and student lounges
Sustainable Design Elements
Achieved nearly a 70 percent reduction in potable water use
Gray-water recycling for toilets
Storm water management to improve the health of the Charles River
Heat recovery methods for HVAC (heating, ventilation, and air conditioning) systems
Variable air volume (VAV) system and right sizing of HVAC equipment to reduce energy use
Efficient lighting design, controls, and daylight controls
Light pollution reduction
Low emitting materials including low volatile organic compounds (VOC) paints, adhesives and sealants
Recycled content and regional materials
High-performance exterior materials
Construction waste management plan for recycling and salvaging waste