Overview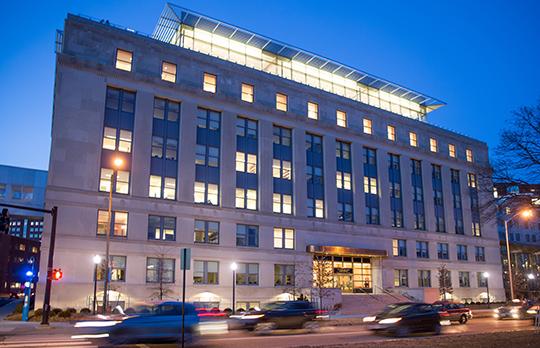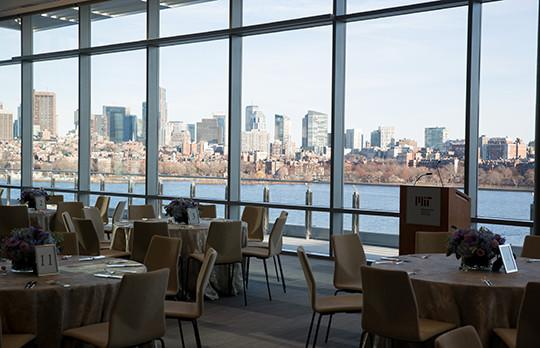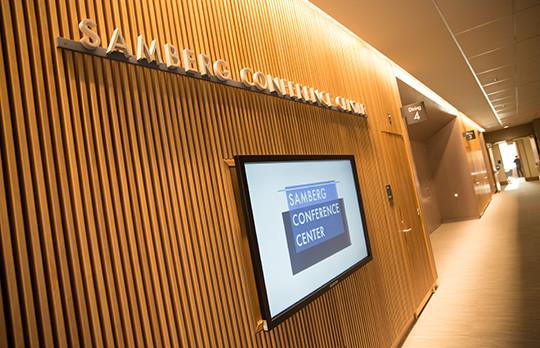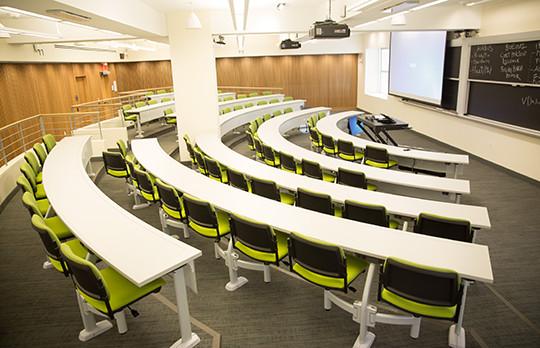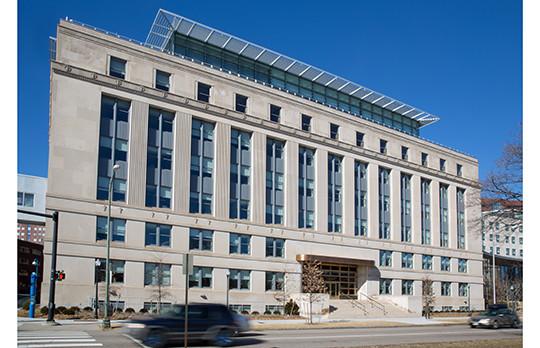 Themes and priorities
Innovation and collaboration
Renovation and renewal
Sustainability
Enhancement of life and learning
The renovated Building E52—now the Morris and Sophie Chang Building—serves as headquarters for MIT's Department of Economics and provides a centralized location for the MIT Sloan School of Management's student and administrative services. E52's new seventh floor and renovated sixth floor house the remarkable Samberg Conference Center.
An Art Deco landmark along the Charles River, Building E52 was designed by Shreve, Lamb, and Harmon, the architects of the Empire State Building in New York City, and constructed in 1938 as the Massachusetts headquarters for the Lever Brothers Company. Purchased by MIT in the early 1950s, it became the first home of MIT's School of Industrial Management (later renamed the MIT Sloan School of Management). As part of the renovation, E52's distinctive bronze and limestone exterior was scrubbed and restored, and its windows were all replaced with operable windows that replicate the original design. Other preserved historic details include the lobby's floor, where the original terrazzo has been meticulously replaced following the original pattern.
Inside, two new stairways connect floors 1-3 and floors 4-5, providing a more cohesive feel for the departments occupying the building. Reconfigured work spaces also foster more efficient circulation and improved communication. Occupants now enjoy increased interior daylight, improved building envelope insulation, and more efficient heating, cooling, and lighting systems. The building's north vestibule features an MIT Percent-for-Art piece designed by artist Leo Villareal consisting of 240 hanging LED rods that cycle through a randomly generated series of light combinations.
Building E52 is named in honor of Morris Chang '52, SM '53, ME '55 and Sophie Chang, whose generous gift made the restoration possible. The Samberg Conference Center, named to honor the generosity of Arthur (SB '62) and Rebecca Samberg, features a 20,000-foot glass-encased top-floor addition and terraces offering extraordinary views of the river and Boston.
E52 has achieved LEED Platinum certification.
Image credits
Bryce Vickmark
Details
Address
50 Memorial Drive, Cambridge, MA
School or Unit
School of Humanities, Arts, and Social Sciences (SHASS), Sloan School of Management (Sloan)
Design Features
New seventh floor addition with terrace creates 2-floor conference center featuring panoramic views, state-of-the-art technology and acoustics, as well as moveable partitions and furniture that enhance space flexibility
Façade scrubbed and renewed by workers on "mast climbers" using bristle brushes
New academic space configuration based on programming and space analysis
Two new communicating stairways and a new elevator improve building circulation in addition to interior bridges that connect to buildings E40, E51, E62, and E60
New suite layouts for more efficient flow
Seven elevator lobbies feature wood slat wall panels constructed in different patterns generated by software
All interior floors, ceilings, and finishes refreshed or restored, including meticulously restored Terrazzo floor in lobby
Improved interior daylight
Sustainable Design Elements
LEED Platinum certification
All exterior windows replaced with higher-efficiency windows
Increased exterior wall thermal performance to improve building energy performance
New, more efficient heating and cooling systems
Energy-efficient lighting (daylight dimming)