Overview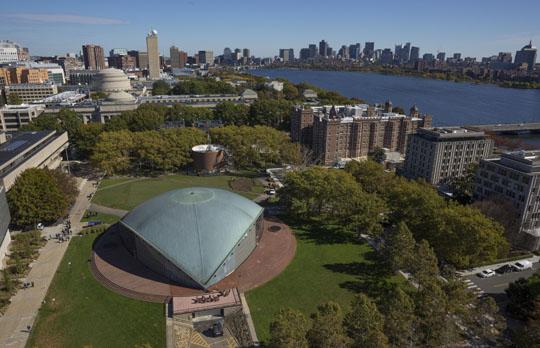 Themes and priorities
Renovation and renewal
Enhancement of life and learning
A substantial restoration of Kresge Auditorium has revitalized this well-loved and active gathering space. Designed by Finnish American architect Eero Saarinen, Kresge is architecturally significant as a leading example of a minimalist thin-shell concrete structure. The building – located at the center of campus, facing the Chapel (also designed by Saarinen) – first opened its doors in 1955.
Kresge plays an important role in the mission and life of the Institute. In addition to providing performance facilities and practice space for MIT Music and Theater Arts programs, the auditorium serves as a venue for a variety of community activities including MIT events and symposiums, student performances, and Cambridge Symphony Orchestra and New England Philharmonic performances.
A study of Kresge was conducted to determine the conditions of its structure and systems as well as how these conditions affected the groups who use the building. Top renewal priorities included replacement of the curtainwalls and brick plaza, minor roof repairs, and structural upgrades. Interior renewal priorities included replacement of all HVAC air handling equipment and controls, installation of a building management system, renovation and enlargement of the restrooms, ADA upgrades, and upgrades to the building's lighting and fire protection. A meticulous team process drawing on the expertise of the architect, engineers, and fabricators was crucial to the restoration of key historic elements like the curtainwalls, which were replicated in stainless steel to match the original design proportions and dimensions.
The renewed Kresge provides an improved and more enjoyable experience for the MIT community and visitors while also achieving greater energy efficiency. 
Image credits
Photographer Christopher Harting
Details
Address
48 Massachusetts Ave, Cambridge, MA 02139
School or Unit
Division of Student Life
Project Team
Architect: EYP, 470 Atlantic Avenue, Boston MA 02210
Construction manager: Lee Kennedy, Quincy, MA
MIT Team: Thayer Donham, Brian Healy, Gary Tondorf-Dick
Design Features
Historic restoration of highly active community landmark preserved Kresge's architectural features as one of the country's first large-scale buildings to use thin-shell concrete technology

Surrounding brick plaza removed and replaced

Roof repaired

New waterproofing measures installed

Structural upgrades and repairs completed; Kresge's distinctive 50-ft spherical dome rests on just three footings

Signature glass curtainwalls replaced through a careful design-assist team process in which the project team, including architects, engineers, and window fabricators, worked closely to replicate Saarinen's original curtainwall design using new materials (including stainless steel) that improve insulation, durability, and safety

Complete replacement of all HVAC air handling equipment and controls

New electrical distribution panels

New electronic building management system (BMS) to improve control, monitoring, and management of mechanical and electrical systems

Existing ductwork and other mechanical components cleaned and modified

Restrooms renovated and substantially enlarged; all fixtures replaced

Interior brick floors replaced

Lighting, fire protection, and alarms upgraded

Additional upgrades completed to improve accessibility, including the installation of handrails in the auditorium main aisles and cane rails in the lobby to indicate low-hanging beams
Sustainable Design Elements
New and upgraded lighting conserves energy

New restroom fixtures conserve water

Replacement curtainwall materials provide improved insulation and reduce energy use

New mechanical systems and building controls allow for better environmental emissions and energy efficiency