Overview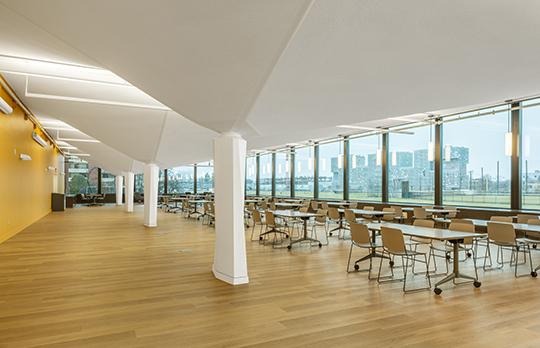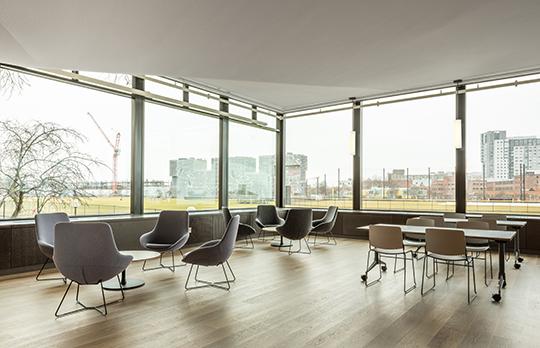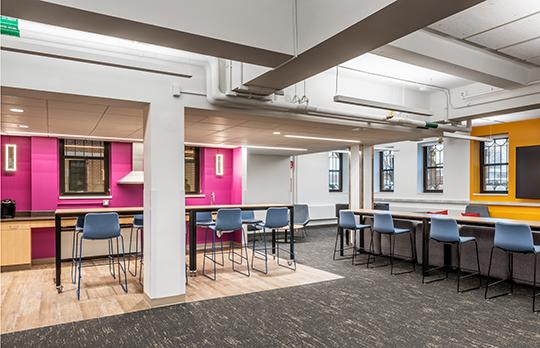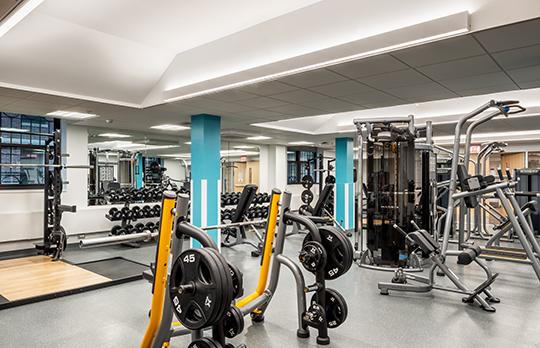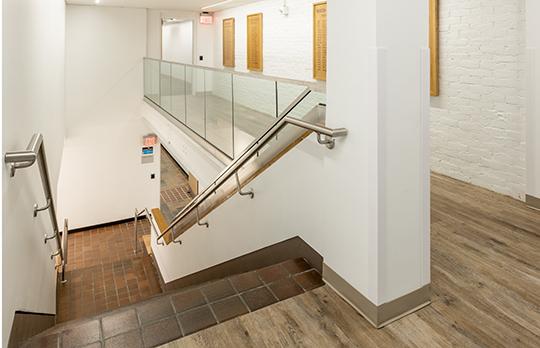 Themes and priorities
Renovation and renewal
Enhancement of life and learning
Burton-Conner, home to a vibrant community of approximately 388 MIT undergraduate students, was built in 1927 as the Riverside Apartment and has served MIT as an undergraduate student residence since 1948. The recent two-year renewal project updated the five-story building's envelope and infrastructure, addressing issues of aging that had developed over the years.
The project addressed priority areas and systems to support Burton-Conner's undergraduate student population, housed in single, double, and triple rooms, with nine graduate resident advisor apartments, an area director apartment, and two head of house apartments. Updates throughout the residence include new windows, renovated plumbing and heating systems, renovated suite bathrooms, and refreshed kitchens with new ventilation and appliances. As part of making the building fully accessible, new corridors were constructed to connect the Burton and Conner sides of the residence on all upper floors. Shared amenities such as the gym, library, bike-storage room, and common areas were updated, a new makerspace was added, and indoor living spaces and finishes were refreshed. The Porter Room, originally built as a dining hall, was renovated into a flexible gathering space for the Burton-Conner community and for larger MIT community events. Public restrooms were also improved, as were life safety systems. Building accessibility was upgraded, a new accessible elevator was added, and improvements were made on the exterior to the building's façade, lintels, and sills.
Burton-Conner reopened in 2022 and welcomed students back into its halls. The renovation and renewal of Burton-Conner is part of the Institute's ongoing efforts to renew existing residence halls and provide a variety of housing options for its community.
Image credits
Robert Umenhofer
Details
Address
410 Memorial Drive, Cambridge, MA 02139
School or Unit
Division of Student Life
Design Features
Refreshed indoor living spaces and finishes, including renovated suite bathrooms and kitchens with new appliances
Updated common amenities including the gym, library, bike-storage area, common spaces, and public restrooms
New corridors to provide improved accessibility and connect the Burton and Conner sides of the residence at the upper floors
New makerspace
New accessible elevator
Renovated Porter Room
Energy-efficient windows
Renovated plumbing and heating systems
Exterior improvements to the building's façade, lintels, and sills
Sustainable Design Elements
High performance windows and envelope
Reflective roof material to reduce heat island effect
Low flow fixtures
Heat recovery methods incorporated into HVAC systems
VAV system and right sizing of HVAC equipment to reduce energy use
Energy recovery ventilation
Low-emitting materials including adhesives, sealants, paints, and carpets
Construction waste management
News+Video
In the News
Two new student residences open their doors; New Vassar and the Graduate Tower at Site 4 provide additional housing options on campus, with another new residence in planning and improvements to Burton Conner underway; MIT News, February 16, 2021