Overview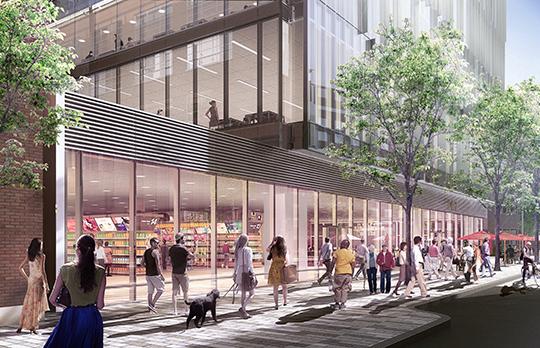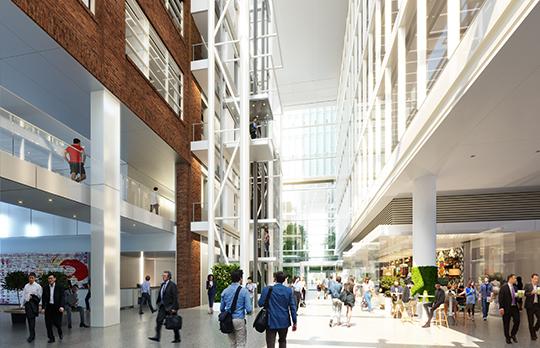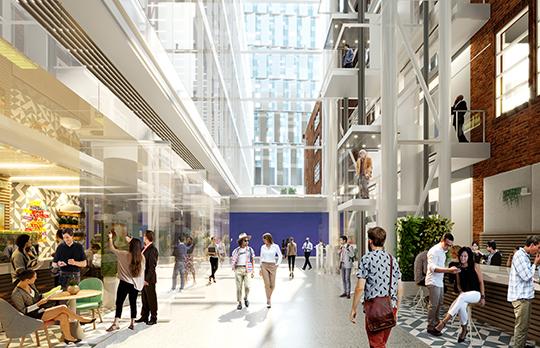 Themes and priorities
Innovation and collaboration
Renovation and renewal
Sustainability
The Site 3 (238 Main Street) building combines new and existing structures, reflecting both the history of Kendall Square and its future of innovation.
A mixed-use building, Site 3 incorporates the existing structure at 238 Main Street (known as the Kendall Building) with a 12-story addition providing new commercial laboratory and office spaces. At the main entrance, a front-to-back five-story atrium brings natural light inside the structure and connects the lower masses of the existing building and the new addition. The building's ground floor offers retail opportunities on Main Street, Hayward Street, Wadsworth Street, and along its southern side, expanding on existing retail activity in this area. The design, which allows for maximum visual transparency between the sidewalk and retail spaces, optimizes pedestrian flow in and out of the building.
The southern side of Site 3, linked to the building's entrance by the atrium, opens onto a new green space area established behind Sites 3, 4, and 5. With outdoor seating, public art, and a variety of landscapes and plantings, the open space is active with year-round programming.
As a whole, the Kendall Square at MIT development is striving to lead the way in urban sustainability, revitalization, and renewal. Sustainability is an integral part of the Site 3 project, and its sustainability features include high-efficiency glazing and HVAC systems, stormwater re-use, and low-flow plumbing systems.
The building has access to underground parking, developed as part of the Kendall Square project, and provides long-term and short-term bicycle parking.
Image credits
Courtesy of By-Encore and Perkins+Will
Details
Address
238 Main Street, Cambridge, MA
Use
Mixed Commercial / Retail