Overview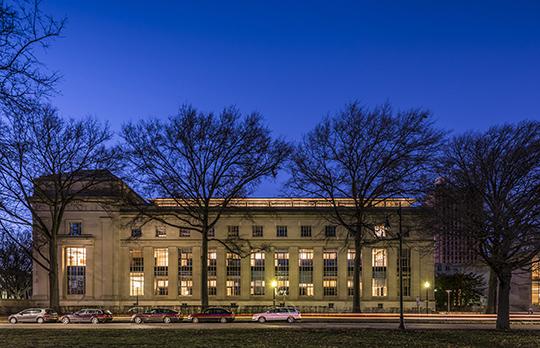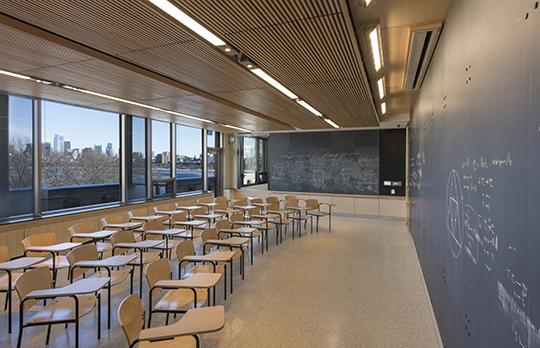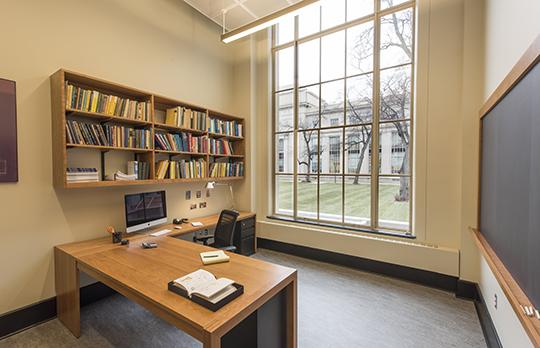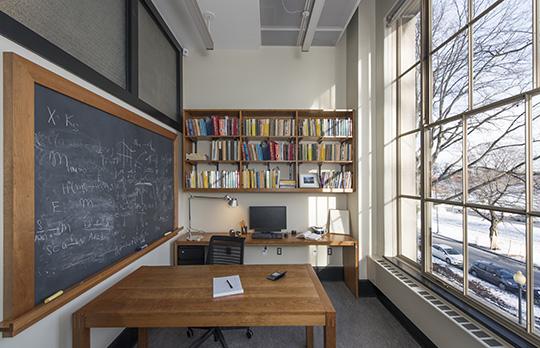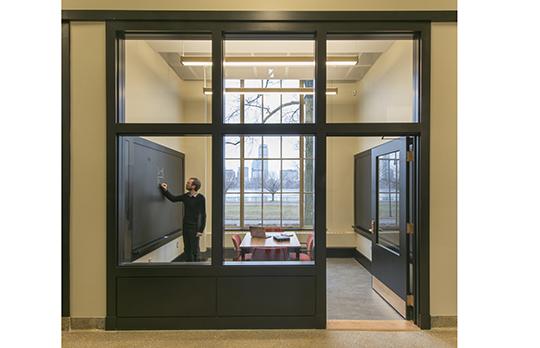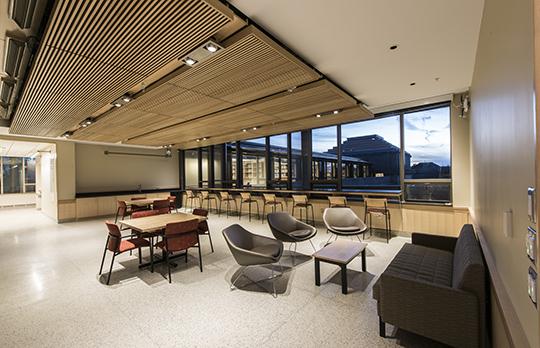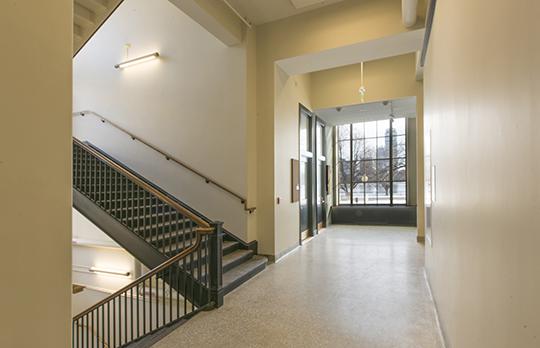 Themes and priorities
Renovation and renewal
Enhancement of life and learning
As MIT celebrates the anniversary of its 1916 move from Boston to the Cambridge campus, the Department of Mathematics has moved back into a newly renovated Building 2. This whole-building renovation represents the first major renewal of the iconic 100-year-old Beaux Arts buildings designed by William Welles Bosworth at the heart of the MIT campus.
For the first time in the history of MIT renovations, a new floor has been added to a Main Group building. Building 2's new fourth floor—which adds approximately 14,000 square feet of office, seminar, collaborative space, and building systems—was engineered carefully to alter the building's exterior profile as little as possible. In an additional effort to maintain the historic integrity of the building, the renewal team carefully researched materials and methods to restore the original limestone façade and replicate and replace the 100-year-old windows. Exterior work has improved the energy performance of the building and the comfort of its occupants. The building has been certified LEED Gold.
At the end of the main corridor on each floor, interior walls have been removed to provide added daylight and reveal views of the river through the renovated windows. All first-floor classrooms have been renovated and equipped with state-of-the-art audiovisual systems, including 2-190, now a tiered lecture hall. Academic offices are now clustered around shared discussion rooms, and group meeting spaces are strategically placed along corridors, in both cases to encourage and support collaboration and interdisciplinary cooperation.
"It is wonderful to return home to Building 2," says Tom Mrowka, head of the department. "The renovation manages to retain the quiet majesty of the Main Group while beautifully and tastefully updating it, capping it all off with amazing new space on the fourth floor."
A new art installation of winding polyhedra by Sir Antony Gormley, titled The CHORD, spans the four-story height of the north stair lobby.
Image credits
Vanderwarker
Details
Address
182 Memorial Drive, Cambridge, MA
School or Unit
School of Science (SoS)
Project Team
Architect:  Ann Beha Architects, Boston, MA
Construction manager: Bond Brothers, Everett, MA
MIT team:  Arne Abramson, William Colehower, Martin Deluga, Frank Higson, Sonia Richards, and Gary Tondorf-Dick
Design Features
Limestone façade restored and preserved
New fourth floor adds approximately 14,000 square feet of office, seminar, and collaborative space; carefully considered expansion process provides a model for future renewal of other Main Group buildings
Ziggurat renovated to create the new Graduate Student Pavilion with a more open plan, expanded collaboration spaces, and a skylight to provide daylight; the second floor Math Commons Room is double the size of previous one
Infrastructure and mechanical systems upgraded to 21st-century standards
Accessibility upgrades include the addition of an elevator and new sloped walks at exterior entries
New conference, seminar, and casual community spaces encourage group interaction; shared/collaborative space increased by more than 300%
Graduate student and instructor offices reconfigured into suites around shared meeting areas so that discussions and office hours can proceed without interfering with work that requires quiet concentration
Sustainable Design Elements
Window replacement improves energy performance of the building and comfort of the occupants; windows replicated to maintain historical integrity of building design
Energy efficient heating and cooling systems
LEED Gold certification
Awards
2016 Cambridge Historical Commission preservation award for rooftop addition and creative adaptation of interior spaces.
News+Video
In the News
Department of Mathematics returns to Building 2; A major renovation project preserves a century of history, paves the way for the future of mathematics; MIT News, February 23, 2016
MIT names historic Building 2, home of mathematics, in honor of James '58 and Marilyn Simons; MIT News, March 30, 2016
Original MIT building restored for another 100 years; Centuries-old campus "Main Group" gets first major modernization, including efficient windows; MIT News, May 18, 2016