Overview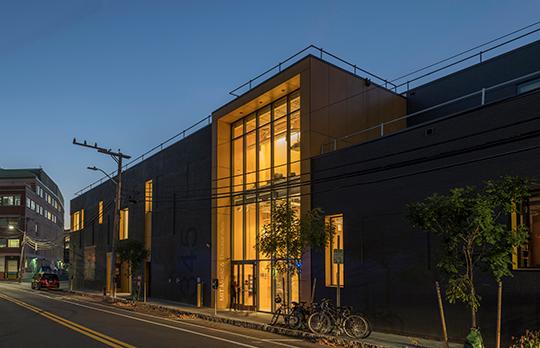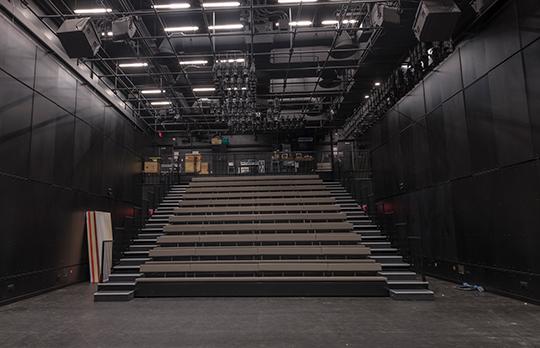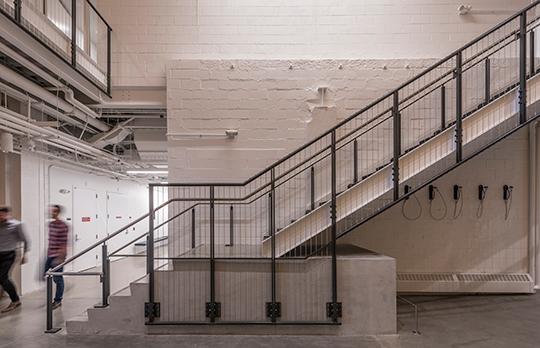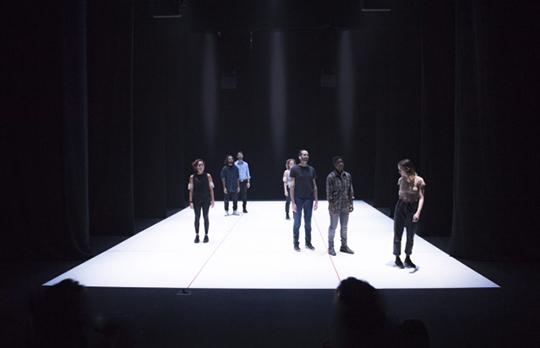 Themes and priorities
Renovation and renewal
Sustainability
Enhancement of life and learning
Enrollment in MIT's Theater Arts program has more than doubled in recent years. As it has grown, the program has become dispersed, occupying not only E33 (the Rinaldi Tile Building) but also various other spaces around campus, including spaces in Walker Memorial, Building 4, Building 10, and Kresge Auditorium.
With E33 slated for demolition as part of MIT's Kendall Square project, MIT had an opportunity to create a space that consolidates and anchors the Theater Arts program. This solution has taken shape within the walls of a former warehouse at 345 Vassar Street (W97).
To house and support the relocated Theater Arts program, W97's systems and infrastructure have been upgraded, and the interior now includes rehearsal spaces, design and faculty studios, offices, costume and scene design shops, dressing rooms, and a two-story theater performance space. The design respects and integrates the original structure and its utilitarian ethos, providing flexible "blank slate" space that can be shaped and reshaped for specific performances and/or to accommodate changing uses.
Sustainability was also a project priority, with the goal of achieving LEED Gold certification. Sustainable elements include new windows and roofing, a solar-ready building, LED lighting with occupancy sensors, and upgraded HVAC systems.
Image credits
P. Vanderwarker, S. Sthankiya
Details
Address
345 Vassar Street, Cambridge, MA
School or Unit
School of Humanities, Arts, and Social Sciences (SHASS)
Project Team
Architect: designLAB Architects, Boston, Massachusetts
Engineering:  Vanderweil Engineers, Boston, Massachusetts
Construction manager: Shawmut Design and Construction, Boston, Massachusetts
Sustainability consultant: New Ecology, Boston, Massachusetts; Andelman & Lelek Engineering, Norwood, Massachusetts
Acoustic consultant: Jaffe Holden, Norwalk, CT
Theater consultant: Fisher Dachs, New York, NY
MIT Team: Siobhan Carr, Thayer Donham, Monier Ouabira, Rich Quade, Sonia Richards, Mark Winter, Sarah Yazici
Design Features
Theater and performance space (seats 150-180) that "pops up" above existing roofline to achieve two-story interior volume
Adjustable movable seating and Masonite flooring in theater to enable staging flexibility
Versatile sound and lighting pipe grid in theater for adjustable configuration
Acoustically engineered partitions for performance and rehearsal spaces designed to absorb and control sounds
Dressing rooms with showers and a green room for performers and artists
Large rehearsal classrooms with sprung wooden floors to support dancers; these rooms can double as performance studios
Costume design classroom, shop, and storage
Design studio and classroom, and a scene design and fabrication shop that opens directly to a loading area on one side and the performance space on the other, making it easy to build and locate scenes
Faculty research studios, seminar room, private offices, and shared open office space
Ticket office, open lobby, and multi-stall restrooms to accommodate audiences
Sustainable Design Elements
A sustainability-focused design process, including multiple sustainability charrettes, life cycle cost analysis, and a sustainability evaluation for all major (and several minor) design decisions – achieved through collaboration across the teams (MIT, architects, engineers, lighting designers, theater consultants, sustainability and energy consultants, and construction managers)  
Solar-ready building (entire roof is prepared, and interior space has been set aside)
New roof with enhanced insulation system
All new windows with energy-efficient glazing systems
New LED "house" lighting with occupancy controls where applicable, and a new dimmer-based performance lighting system with both LED and conventional fixtures
All new high-efficiency HVAC equipment, including direct-expansion rooftop units and a high-efficiency condensing boiler, with control strategies optimized to reduce energy consumption