Overview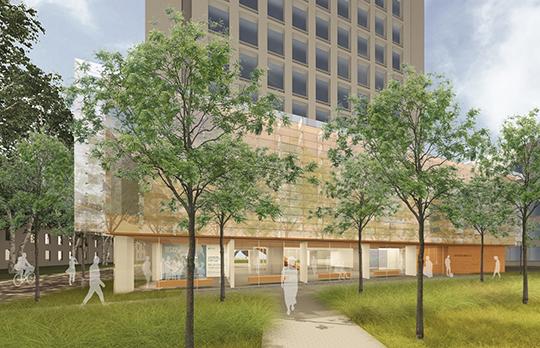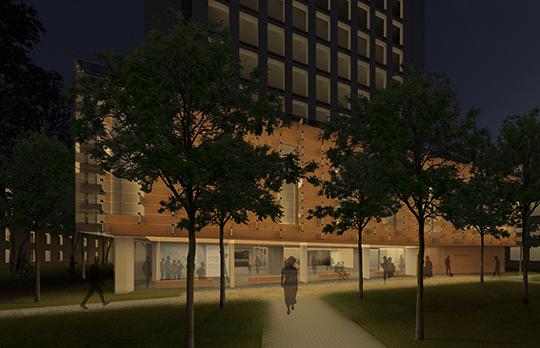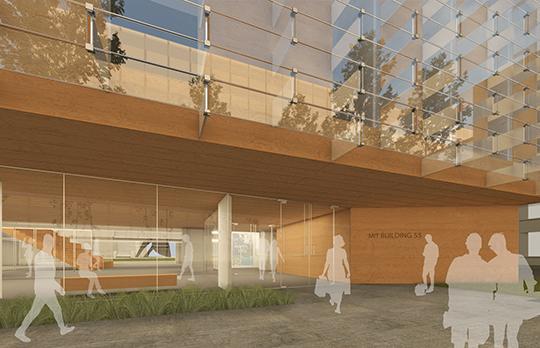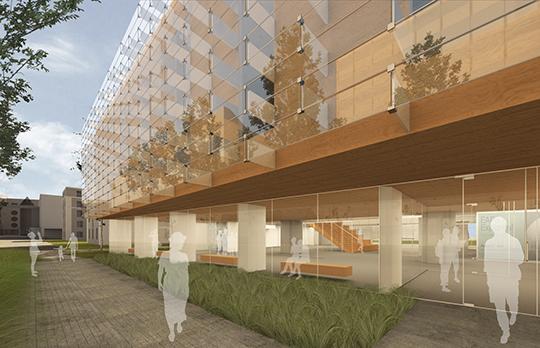 Themes and priorities
Renovation and renewal
Sustainability
Enhancement of life and learning
The iconic Cecil and Ida Green Building (Building 54), designed by I.M. Pei and completed in 1964, is a 22-story Brutalist concrete tower. Currently home to MIT's Department of Earth, Atmospheric and Planetary Sciences (EAPS) and the MIT-Woods Hole Oceanographic Institute (WHOI) Joint Program, the building is under construction with the goal of renovating its primary lecture hall and creating an addition (the Earth and Environment Pavilion, Building 55) that will serve as a new entrance for these programs. 
Three departments will be headquartered in the new addition: EAPS, the Institute's academic home for fundamental scientific study of the Earth, its climate system, and the origins and evolution of planets; MIT's Environmental Solutions Initiative (ESI), a campus-wide effort to foster interdisciplinary education programs and innovation in the domains of climate science and earth systems, urban infrastructure, and sustainability; and the MIT-WHOI Joint Program, one of the world's most prestigious graduate degree programs in oceanography and applied marine science and engineering.
Building 55's gateway entrance to the co-located headquarters of EAPS, ESI, and the MIT-WHOI Joint Program will showcase Earth, environmental, and climate sciences research and education. The exterior of the Pavilion will be sheathed with an innovative system of wood composite panels overlaid with bracketed glass panels to reflect the surrounding trees and green space. Inside, the renovation of Lecture Hall 54-100 is expected to update and improve the hall's accessibility, seating, and teaching technologies. The project includes a new lobby, atrium, and exhibition space; reception and office spaces; conference and study rooms; and classrooms. A seating area – the "Campus Living Room" – will provide a welcoming, centrally located space to linger and collaborate.
The project is designed to create a nexus of climate research, environmental innovation, and academic programs on campus.
Image credits
Courtesy Anmahian Winton Architects
Details
Address
21 Ames Street, Cambridge, MA
School or Unit
School of Science (SoS), MIT-Woods Hole Oceanographic Institute (WHOI) Joint Program