Overview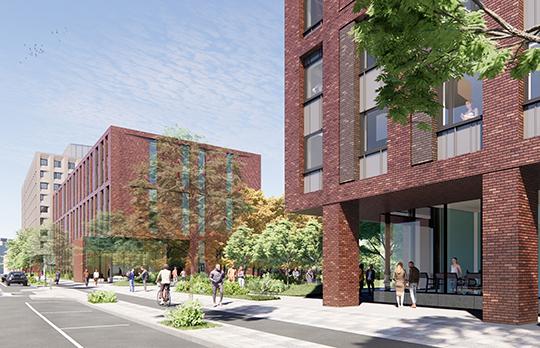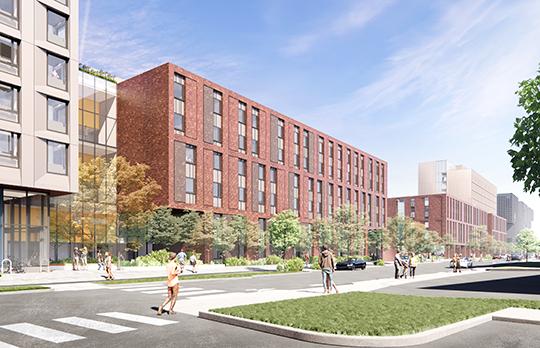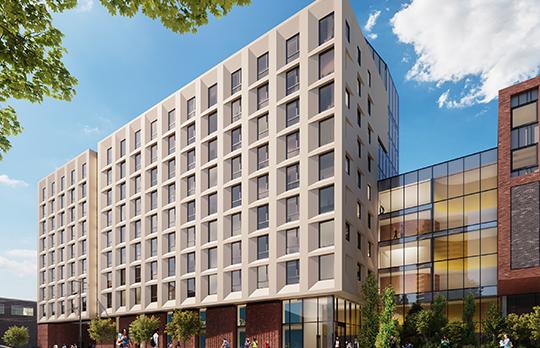 Themes and priorities
Enhancement of life and learning
Housing in the Cambridge-Boston area can be a challenge for graduate student families, and MIT is pursuing a solution that expands living options for students and families while providing the convenience and benefits of an on-campus location. The West Campus Graduate Residence on Vassar Street will add 676 new beds to MIT's housing stock and will enhance connections with the surrounding neighborhood.
Located adjacent to Simmons Hall on the site of Building W89 and the West Lot parking area, the residence will encompass two new-construction buildings framing a publicly accessible central plaza and green space that will serve as a gateway to the Fort Washington Historic District and Park. Flanking the plaza, the buildings will rise in five- and six-story sections and then step up to 10-story sections beyond the historic district. Housing options will consist of studios and one-, two-, and four-bedroom units, some with exterior entries. The residence will also provide lobbies, lounges, study spaces, a fitness center, and other resident amenities, including ample indoor bike storage.
Outside, the buildings' patterned brick and metal façades and symmetrical windows are designed to echo the framework of Simmons Hall and the masonry of Baker House and the MIT Chapel — as well as the industrial past of the Cambridgeport neighborhood. Glass curtainwalls and other transparent elements will break up the structural mass and reveal the activity within. The Central Plaza will encourage varied, multi-season activities with outdoor seating, urban tree groves, and a raised platform surrounded by a lawn and plantings. A north-facing terrace and gardens will augment the residence's active outdoor life.

MIT is working with American Campus Communities, an experienced campus housing developer, to design and develop the West Campus Graduate Residence. The project team is targeting LEED v4 Platinum certification.
Image credits
Courtesy Kieran Timberlake
Details
Address
Vassar Street, Cambridge, MA
School or Unit
Division of Student Life
Scope
328,050 gsf across two buildings